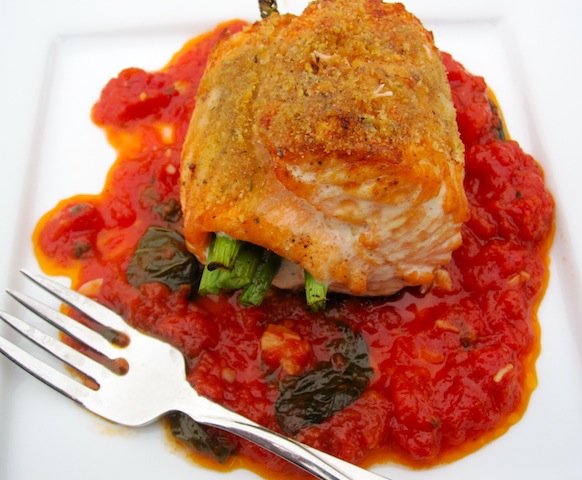 I am a big fan of salmon in all forms. Everytime I see it on sale at the market I have to buy it.
Last week it was so cold and nasty outside that I needed to cook something to keep me warm and make me feel good, so I decided to make these Salmon Rolls with Asparagus served over tomato sauce. I used my simple homemade tomato sauce , but if you want to use store bought to keep it easier, that's okay too.
This recipe was easy to make, elegant and delicious. I would recommend this dish for a dinner party. I loved it!
Ingredients
(4 servings)
4 salmon fillets, about 5 oz each one
Salt and pepper
1/3 cup mayonnaise
1 tablespoon mustard
1 teaspoon chopped fresh parsley
1 teaspoon chopped fresh thyme
1/4 teaspoon onion powder
1/4 teaspoon garlic powder
Juice of half a lime
8 asparagus spears, trimmed and cut in half
1/2 cup bread crumbs
1/4 cup parmesan cheese
1 1/2 cups tomato sauce
Directions
Preheat the oven to 400F.
Lay the salmon fillets on a cutting board and sprinkle with salt and pepper. In a small bowl whisk together the mayonaisse, mustard, parsley, thyme, onion powder , garlic powder and lime juice.
Top each salmon fillet with 4 asparagus pieces. Roll the fillets and place seam-side down on a greased baking sheet.
brush rolls with the mayo mixture and sprinkle with bread crumbs and parmesan cheese, pressing to adhere.
Bake for about 25 minutes or until the salmon is cooked through. Serve over your favorite tomato sauce.
This was printed from MyColombianRecipes.com