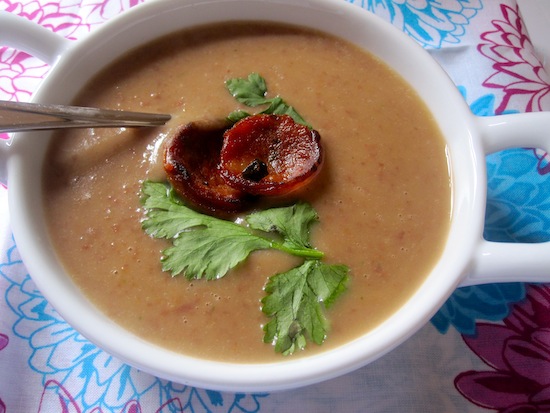 This is a quick version of the traditional Crema de Frisoles. In Colombia we usually cook bean soup from scratch, but sometimes I crave soups and I don't have time to cook the beans for a long time. This is when I break out my canned beans!
This red bean soup takes literally 25 minutes to prepare and cook. I added chorizo, but you can be creative and add bacon, ham or another kind of meat. For a vegetarian version just use some corn instead, which also makes for a nice garnish.
Enjoy!
Ingredients
(4 servings)
1 tablespoon olive oil
1 large carrot, peeled and sliced
1/3 cup chopped onion
1 scallion, chopped
1 garlic clove
1 diced large potato
2 (15.5 oz) cans of red beans, rinsed and drained
5 cups chicken, beef or vegetable stock
1/2 teaspoon ground cumin
Salt and pepper
1 teaspoon tomato paste
Cook chorizo or bacon for garnish
Fresh cilantro for garnish
Directions
Heat the olive oil in a medium pot, over medium heat. Add the onions and cook for 2-3 minutes. Add the garlic, scallion, potatoes, carrots and cumin. Season with salt and pepper. Cook for about 5 minutes or until they are golden brown, stirring often.
Add the chicken, beef or vegetable stock, beans, tomato paste and stir. Reduce the heat to medium-low an continue cooking for about 20 minutes, stirring occasionally.Transfer the soup to a blender, or use an immersion blender, and puree the soup until smooth.
Return the soup to the pot. Cook for about 2 minutes and season to taste.
Laddle in bowls and add chorizo and cilantro for garnish. Serve warm.
This was printed from MyColombianRecipes.com