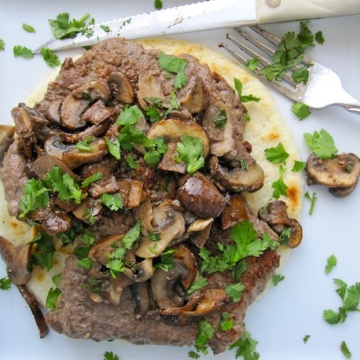 Arepa con Carne y Champiñones (Corn Cake with Beef and Mushrooms)
Ingredients
2

cooked arepas

2

cups

portobello mushrooms

sliced

½

teaspoon

fresh thyme

Salt and pepper

¼

teaspoon

onions

1

garlic clove

3

tablespoons

olive oil

1

pound

thin beef steaks

skirt steaks are a good choice

2

garlic cloves crushed

½

teaspoon

ground cumin

1

scallion

finely chopped

Salt and pepper

Fresh cilantro
Instructions
To make the beef: Mix the crushed garlic, cumin, scallion, salt and pepper together to make a marinade for the meat.

Rub the garlic cumin marinade on the thin steaks and let marinate for a couple of hours or overnight.

Grill or fry the steaks over high heat to desired doneness. Since they are relatively thin they wonu2019t take too long to cook. Set aside.

To make the mushrooms: Heat the olive oil in a sauce pan over medium heat. Add the onions, mushrooms, garlic and thyme and season with salt and pepper. Cook for about 7 minutes or until they are golden brown, stirring often.

To assemble: top each arepa with beef and mushrooms. Garnish with fresh cilantro and serve warm.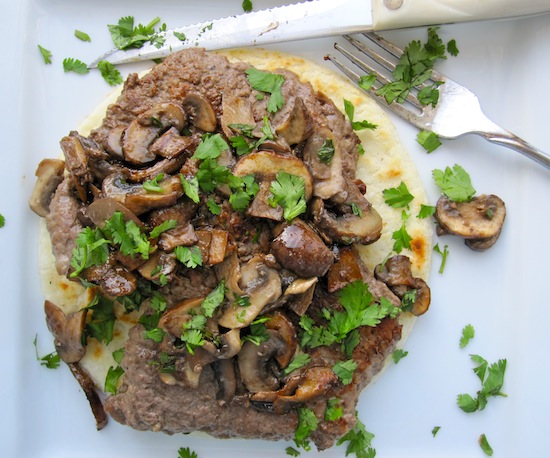 I have to admit that I am an "arepa" girl. I love them for breakfast but also for any meal during the day. I have always enjoyed arepas, not only to eat but also to prepare. The topping combo on this arepa is simple and delicious, earthy mushrooms and flavorful beef.
I want to apologize because I am not posting as often as I would like, but this pregnancy has been harder than my first one and this time I have another child care for, as well as a dog, a husband and a house. Thank God for my parents-in-law who are an amazing help.
Every day I keep hoping that I will have the energy to write a post. Sometimes I wait until the evening, but I've come to realize that 's simply a bad idea. You know what happens at night... I'm even more tired, cranky and have heartburn! Believe me, you don't want me to start writing in English when I'm exhausted. I sometimes don't make any sense when speaking English when I'm over-tired, never mind writing, just ask my husband 🙂
I hope you all enjoy this arepa dish!