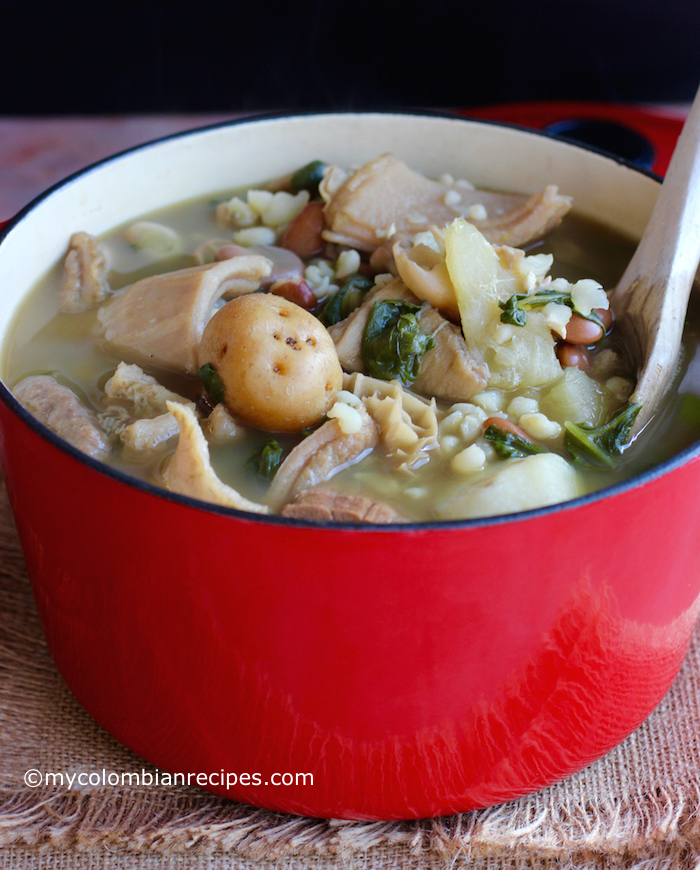 Mazamorra Chiquita is a very traditional Colombian soup from the Boyacá department located in the Andean Region of the country. Known as "The Land of Freedom", this region was the scene of a series of battles which led to Colombia's independence from Spain.

Mazamorra Chiquita (Boyacá Region Soup)
Ingredients
1

pound

Rumba® honeycomb tripe

1

pound

Rumba® scalded trip

Juice of 1 lime

¼

teaspoon

baking soda

1

pounds

beef for stew

cut into small pieces

3

scallions

finely chopped

1

white onion

finely chopped

6

small potatoes o papa criolla

2

large red potatoes

peeled and diced

1

cup

cooked hominy corn

1

cup

of canary beans

cooked

½

cup

of fava beans

1

bunch chard leaves torn into small pieces

Salt and pepper

Water
Instructions
Wash the tripe with warm water and rub with lime juice. In a large pot combine the tripe, baking soda, and enough water to cover the tripe by 2 inches.

Bring to a boil, reduce to a simmer and cook until the tripe is very tender, about 1 ½ to 2 hours or 45 minutes if using a pressure cooker. Drain the tripe and discard the water.

Slice the tripe into small pieces and place it in a large pot and cover with water. Bring to a boil, then reduce the heat to medium-low.

Add the beef, scallions, onions, corn and beans. Partially cover and cook for about 45 minutes. Add the potatoes and chard and cook for about 45 minutes more until the tripe is very tender. Season with salt and pepper and serve.

The Mazamorra Chiquita is a hearty, filling and rich soup usually made with tripe, dried corn, chard, beef, beans, onions, spices and other vegetables. The combination of potatoes and other root vegetables is variable… and arguable! Some of the root vegetables used to make a traditional Colombian Mazamorra Chiquita are chuguas, cubios, and ibias, none of which were available in my town here in the United States. So, I replaced and omitted as needed, to adapt the recipe using the ingredients readily available. Like many Colombian recipes, the ingredients vary by family and cook anyway.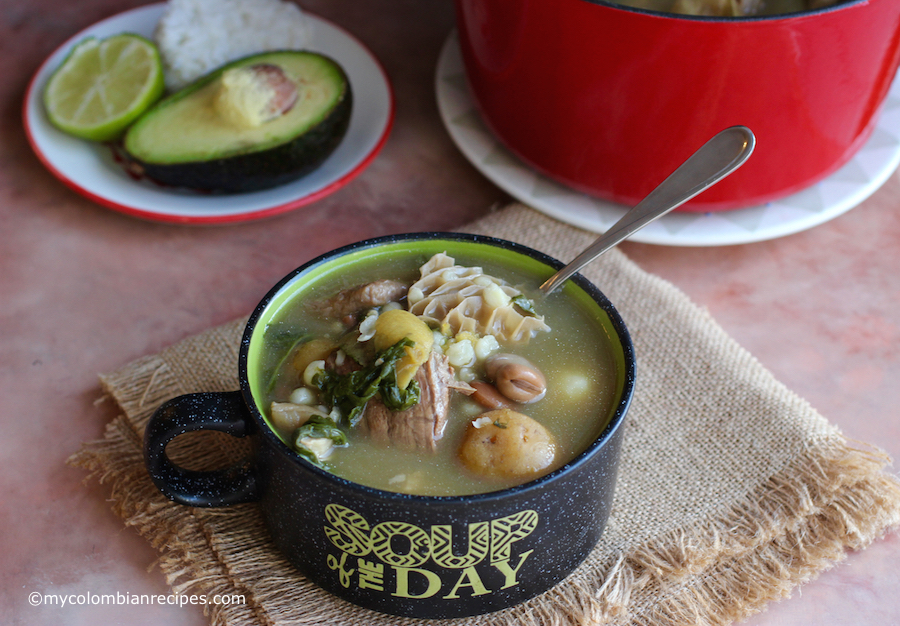 I made mine with a combination of honeycomb tripe and scalded tripe from Rumba Meats®. This company sells great quality specialty cuts of beef here in the United States. Check their site to learn more about their products.
Disclosure: This recipe was sponsored by Rumba Meats®, while all photos, recipes, opinions and ideas are my own.
Buen provecho!