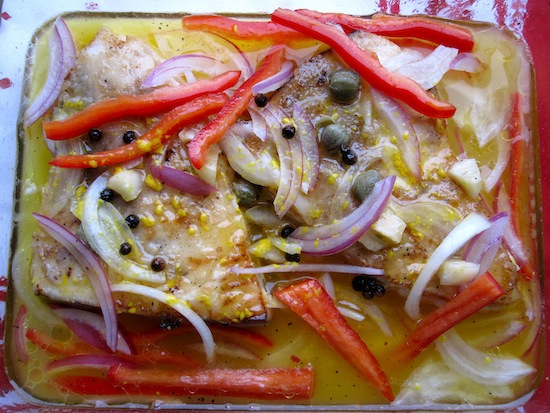 Escabeche de Pescado o Pescado Marinado is a typical dish from the Atlantic coast of Colombia. It is fish that is first marinaded in a vinegar and vegetable mixture for 24 hours in the refrigerator and served cold.
A dish like this one is perfect for spring and summer. It is easy to make and full of flavor. For this dish I used sword fish, but in Colombia it is usually made with " Pez Sierra" or "Saw Fish".
Buen Provecho!
Don't forget to comment on my post "Getting Ready For a New Life" and enter to win a Slim-Fast gift pack worth $100. Sweepstakes dates: 3/28-4/20
Ingredients
(4-6 servings)
For the fish

Vegetable oil for frying
2 pounds sword fish, cut into pieces
Salt and pepper
Juice of 4 limes
1/2 cup all purpose flour

Marinade

3 garlic cloves, minced
2 medium red bell peppers, thinly sliced
2 medium red onion, thinly sliced
3 tablespoons of capers
1 teaspoon of yellow mustard
Salt and pepper
2 tablespoon sugar
1 cup olive oil
11/2 cups white vinegar
Directions
Place the fish in a plastic bowl and add the lime juice, salt and pepper. Place in the refrigerator for one hour.
Dry the fish using paper towels and cover with all purpose flour. In a medium pan heat the vegetable oil over medium heat. Add the fish and fry for about 3 minutes on each side or until golden.
To make the marinade: Place all the ingredients in a bowl and mix well until combined.
Take the fish from the oil and place in a glass dish. Cover the fish with the marinade. Place in the refrigerator for 24 hours.
This was printed from MyColombianRecipes.com