Fried whole fish is a traditional Colombian dish from the pacific and Caribbean regions of the country.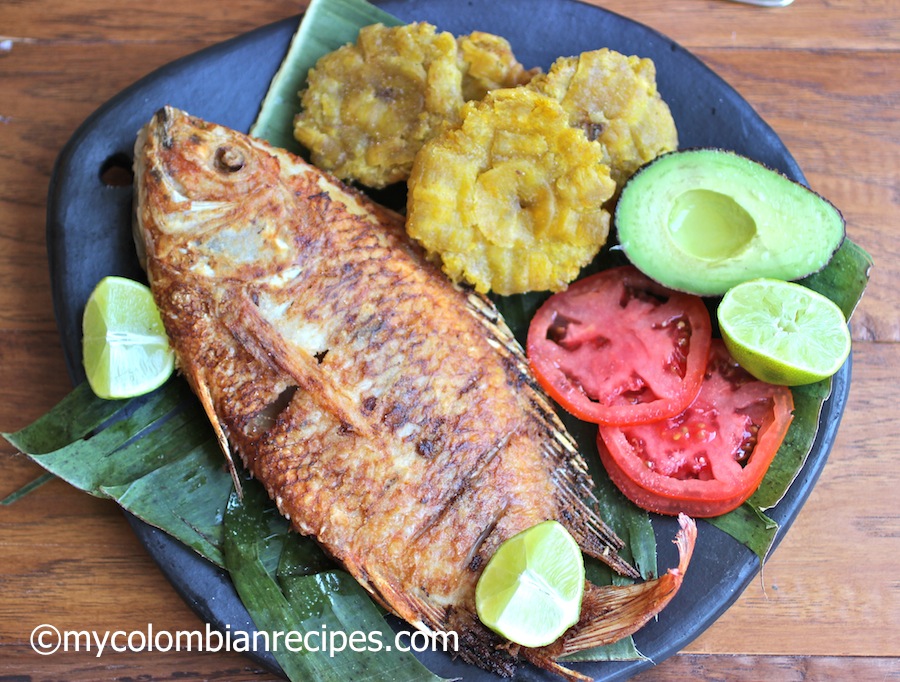 Today I am sharing with you a true Colombian classic, Pescado Frito Colombiano (Colombian-Style Fried Whole Fish), a very popular dish from the Caribbean and Pacific regions of Colombia.
The first time I had a whole fried fish was on the beach in Cartagena, Colombia. It was served with patacones (green plantains), coconut rice and a simple tomato salad on the side, and since that day, it has been one of my favorite ways to eat fish. Just heavenly!
How do you fry a whole fish?
The best fish to fry whole are trout, tilapia and red snapper. Be sure the fish is fresh and clean, ask your fishmonger to clean it for you if you can't do it at home.
The best oils to fry fish are canola, corn or vegetable oil. The oil should be hot when you add the fish to the pan. It only takes about 7 minutes per side to cook the fish until is golden.
Some of my favorite side dishes to serve with this fried whole fish are patacones, yuca fries, coconut rice, avocado salad and lime wedges.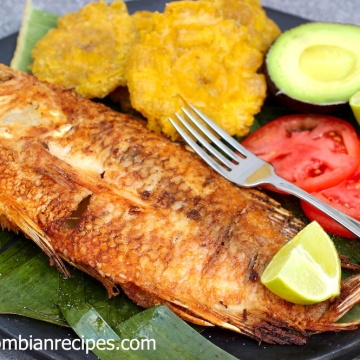 Colombian-Style Fried Whole Fish Recipe
Ingredients
2

small whole tilapias or red snapper

cleaned and scaled

2

scallions

finely chopped

Juice of 1 lime

Salt and pepper

¼

cup

all purpose flour

2

cups

of vegetable or Canola oil for frying
Instructions
Rinse the fish in cold water and pat dry with paper towels. Using a sharp knife, make 3-4 cuts on each side of the fish.

Season the fish inside and out with salt and pepper. Rub the fish with the scallions and lime juice. Allow fish sit 10 minutes before cooking.

Dredge fish with flour to coat. Pour oil into a large frying pan. The oil should be at least 1 inch deep.

Heat the oil over medium-high heat, you can test it by dropping in a small cube of bread. If it sizzles and cooks, it is ready, or if you have a thermometer, the correct temperature is 375 F.

Carefully place the fish in the oil, standing back in case the oil splatters, then turn the heat to medium.

Fry the fish, without turning it, for about 5 to 7 minutes, or skin will break. Turn the fish and fry about 5 to 7 minutes more or until the skin is crispy.

Transfer to a plate lined with paper towels and serve with patacones, rice, avocado and lime wedges on the side.
Notes
*Be sure the oil is covering the whole fish, if it's not just submerged the fish in the hot oil pushing with a heat safe spoon, ensuring it cooks evenly.
*Some of the most popular fish in Colombia to make this dish are: red snapper, mojarra and tilapia.
Nutrition
Calories:
2204
kcal
Carbohydrates:
13
g
Protein:
36
g
Fat:
227
g
Saturated Fat:
18
g
Polyunsaturated Fat:
64
g
Monounsaturated Fat:
143
g
Trans Fat:
1
g
Cholesterol:
85
mg
Sodium:
91
mg
Potassium:
563
mg
Fiber:
1
g
Sugar:
0.3
g
Vitamin A:
120
IU
Vitamin C:
2
mg
Calcium:
28
mg
Iron:
2
mg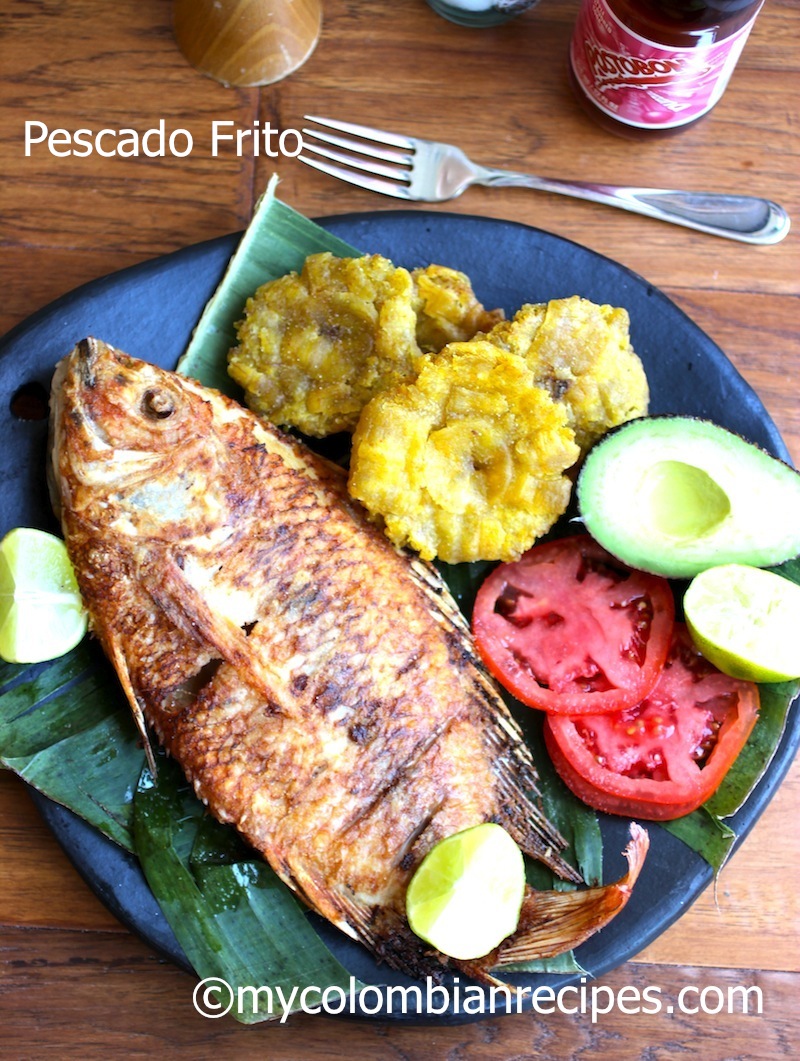 This fish dish is very simple and easy to make. You can have dinner on your table in 30 minutes. If you don't want to fry the whole fish just use fillets that will work too.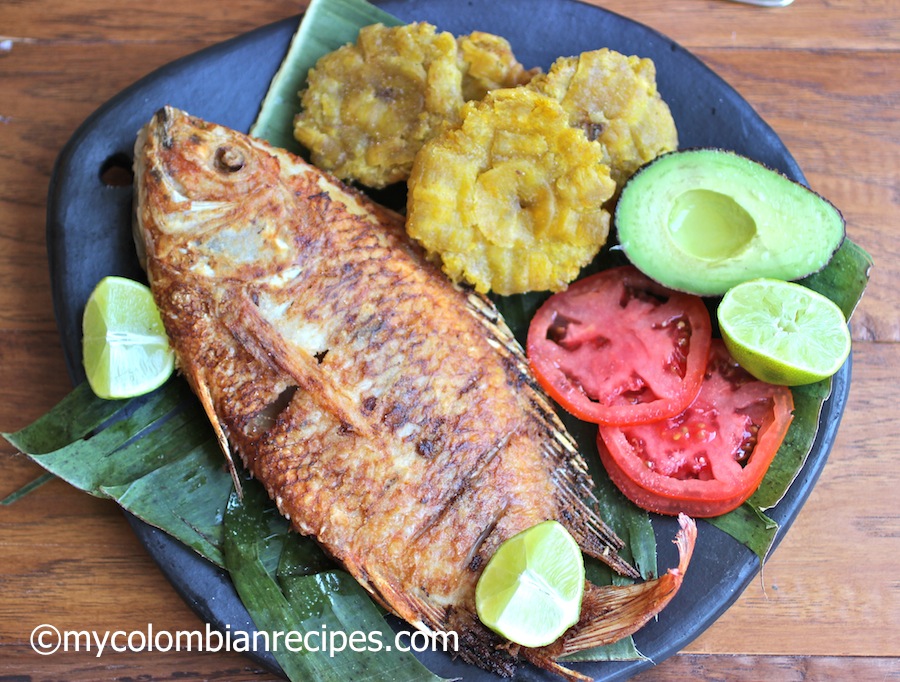 I love Pescado Frito, but I don't get to eat it often here in the United States, as it is very difficult to find the perfect fresh fish for this recipe where I live. But, a couple of weeks ago I went to a different market and found fresh whole tilapia fish on sale, the perfect fish to make my Colombian-Style Fried Whole Fish. So, without hesitation, I bought a couple of them and made this Pescado Frito, one of the simplest recipes for fried fish, and super delicious, especially served with patacones and rice on the side. If you haven't try fried whole fish yet, make this recipe! If you feel intimidated by the head, just ask the fish guy to chop it off for you. I'm betting you'll love this dish too!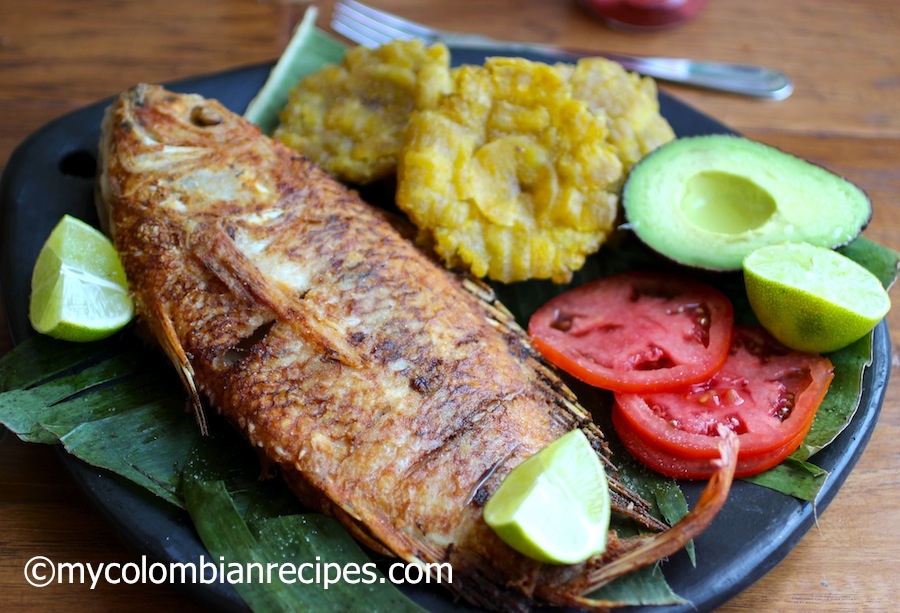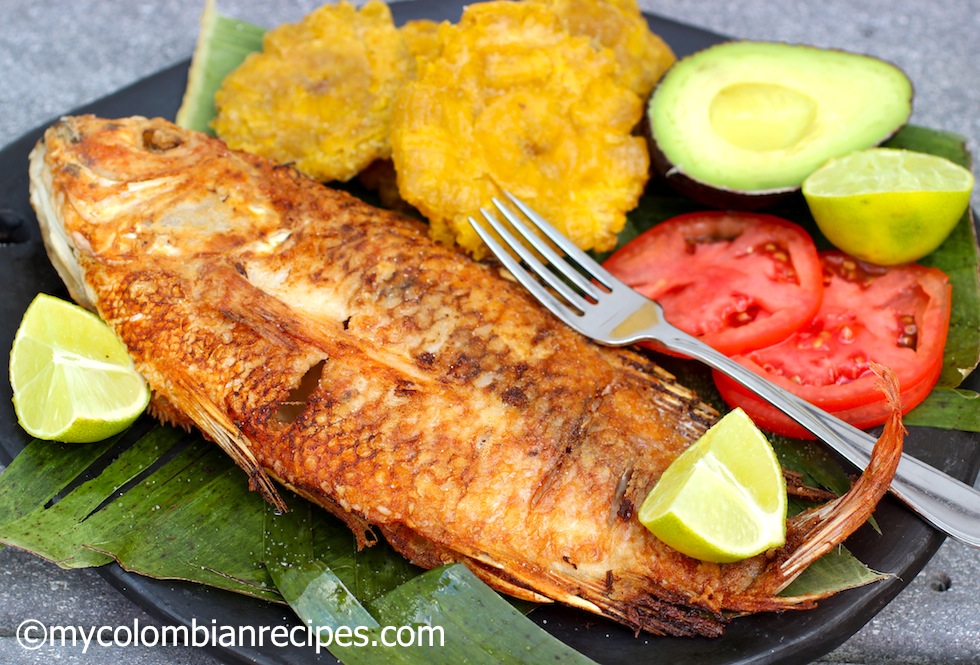 More seafood recipes to try:
Baked Salmon with Cilantro-Garlic Oil