This Sudado de Cerdo is a Colombian-Style pork stew. Sudado is a popular dish in Colombian homes and it's served for lunch or dinner over white rice. There are different variations of sudado made with chicken, beef, meatballs, ribs, seafood and even egg.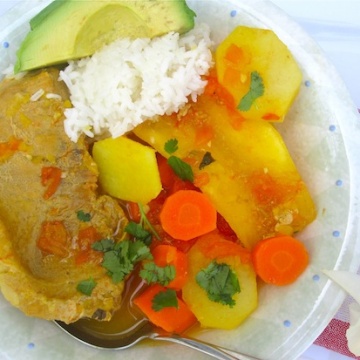 Sudado de Cerdo (Colombian Pork Stew)
Ingredients
1

tablespoon

vegetable oil

2

pounds

pork loin chops

3

cups

water

½

teaspoon

sazon goya with azafran

½

teaspoon

ground cumin

1 to

mato

chopped

⅓

cup

onion

chopped

1

garlic clove

chopped

1

scallion

chopped

Salt and pepper

2

carrots

peeled and sliced

1

pound

yuca

4

potatoes

peeled and sliced

Fresh cilantro
Instructions
In a large pot, heat the vegetable oil over medium heat. Add the onion and sautué until onions are translucent, about 3 minutes. Then add the tomatoes, scallions, garlic, salt and ground pepper and sautué for 5 more minutes.

Add the pork, water, sazon goya and cumin powder. Reduce the heat to medium low cover and cook for 25 to 30 minutes, stirring occasionally.

Add the potatoes, yuca, carrots and cilantro and cook for an additional 30 minutes or until the vegetables are tender.

Serve over white rice.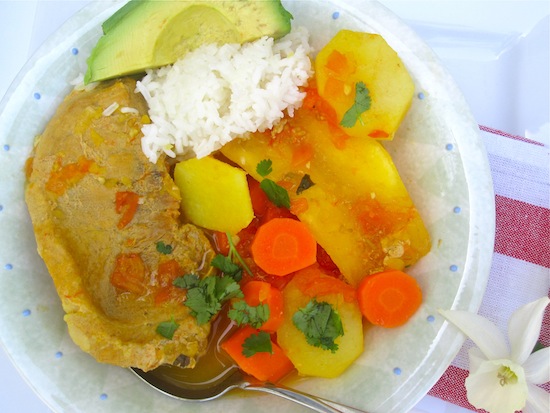 So, what is Sudado? It literally translates as "sweaty". Yummy huh? But in a food context, Sudado is a traditional Colombian stew with many variations such as Pork, Beef, Chicken, Fish and Meatballs Sudado. There are also variations in the vegetables used. Potatoes, yuca, carrots and plantains are some of the more common ones. It is a popular dish all over the country and one of my favorite Colombian meals.
Do you have those dishes that you want to make because you need comfort food and because they remind you of what your mom used to make when you were a child? Sudado is that kind of food for me. When I make it, I remember every detail of those family meals. I love this dish with white rice, avocado and tomato salad on the side.