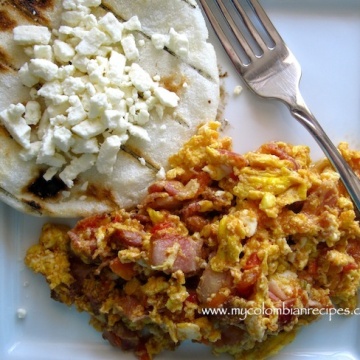 Huevos Pericos con Tocineta (Scrambled Eggs with Tomatoes, Scallions and Bacon)
Ingredients
2

tablespoons

olive oil

6

tablespoons

diced bacon

4

eggs

2

medium tomatoes

finely chopped

4

tablespoons

chopped scallions

Salt to taste
Instructions
In a medium non-stick skillet heat the oil over medium heat. Add the bacon and cook it for about 2 minutes, then add the tomatoes and scallions and cook about 5 minutes, stirring occasionally.

Meanwhile, in a small bowl beat the eggs and salt. Pour the eggs in the skillet with the tomato mixture and cook over medium heat, without stirring, until mixture begins to set.

Stir twice or until the eggs mix with the tomato and scallions and cook about 2 minutes or until the eggs are the consistency you like.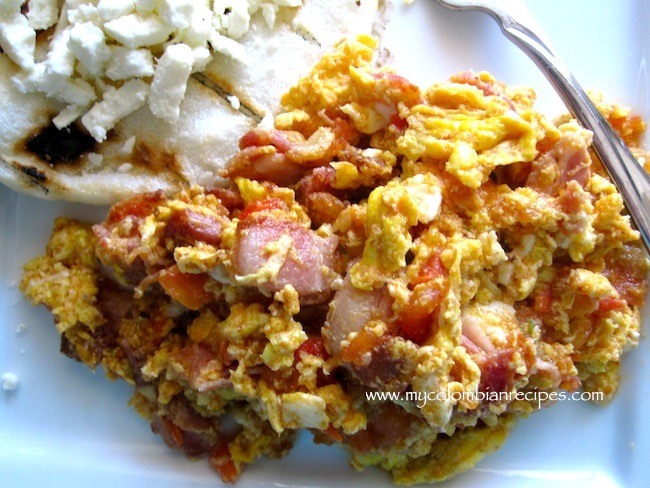 Colombians love their breakfast, and each region of the country has their own variety of homemade dishes to start off the day. Times have changed though for many living the busy city life, as breakfast is often a store bought arepa with cheese or fresh tropical fruit, or cereal at home with a cup of coffee. You will still find many families however, enjoying a big hearty breakfast with homemade arepas, eggs, calentados and varieties of Colombian breads like Pandebono, Almojabana, and Pan de Queso. All of which may be accompanied by refreshing cold Avena, a tasty oatmeal drink.
Yesterday I was craving an old favorite that my mom used to make for me when I was a kid. Huevos Pericos with Bacon, which is a simple and easy to prepare Colombian egg dish, and here's my recipe for it!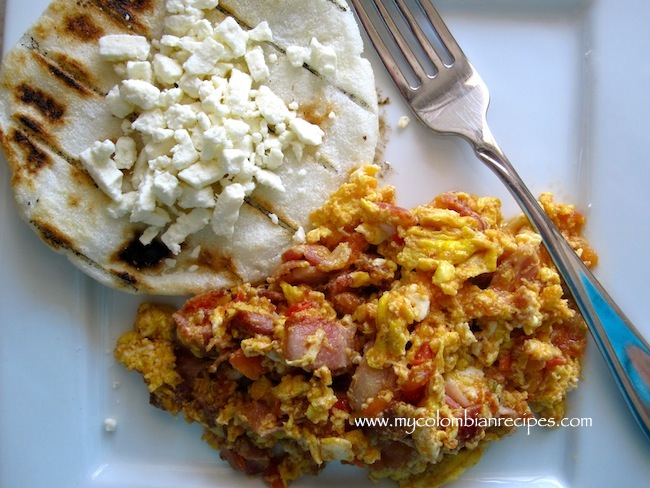 Buen provecho!