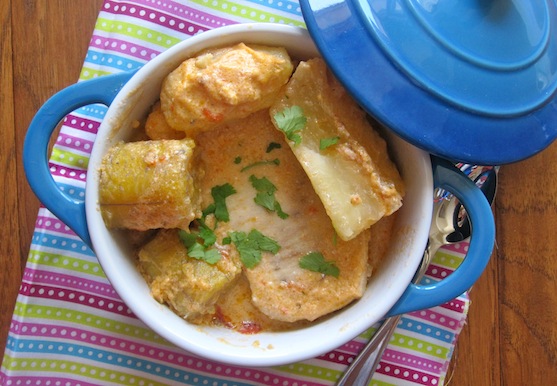 This Pusandao de Pescado is a traditional Colombian dish is from Tumaco, a port city located on the Pacific Ocean. Fresh fish, coconut milk, Colombian herbs, spices,Yuca, plantain and potatoes. What's not to love?
It's Colombian cooking at it's simple and full of flavor. Serve over plain white rice and add some lime juice. You are going to love this dish!I made my pusundao with sworfish, but the dish is traditionally made with bagre (catfish).
Buen provecho!
Ingredients
(4 servings)
4 swordfish fillets or other firm fish
1 tablespoon olive oil
2 tablespoons butter
1/3 cup red pepper, finely chopped
1/2 cup chopped, onion
1 garlic clove, chopped
1 tomato, chopped
3 cups coconut milk, fresh or canned
1/2 cup water
1/4 teaspoon ground cumin
1/2 teaspoon achiote or color
2 medium potatoes, peeled and cut into chunks
1 pound yuca or cassava, cut into pieces
2 green plantains, cut into small chunks
Fresh cilantro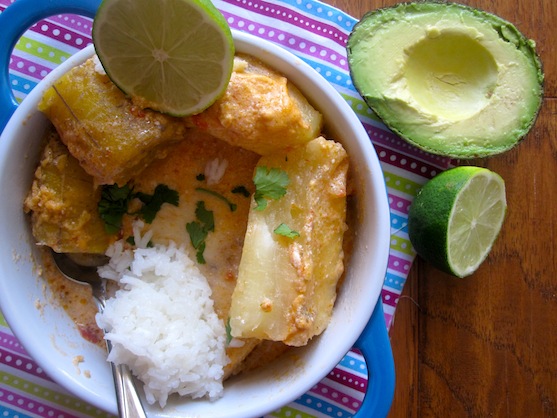 Directions
In a medium pot, over medium heat, warm the olive oil and butter.
Add the onions, red pepper, garlic, tomato and sauté until tender and translucent, about 10 minutes, stirring occasionally. Add cumin, color, salt and pepper.
Add the potatoes, plantains, yuca, coconut milk and water and bring to a boil. Reduce heat and simmer for about 30 minutes.
Add the fish and cook for 15 minutes more. Serve warm.
This was printed from MyColombianRecipes.com