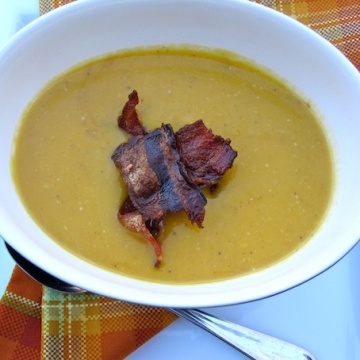 Roasted Butternut Squash-Coconut Soup
Ingredients
2

butternut squash

Olive oil

½

cup

chopped onion

1

garlic clove

½

teaspoon

ground cumin

4

cups

stock

Salt and pepper

1

can coconut milk

3

tablespoons

honey
Instructions
Put the squash in half lengthwise and remove and discard the seeds. Brush the squash inside and out with olive oil, and season with salt and pepper. Place the squash, cut side down, on a baking sheet.

Roast the squash until a sharp knife penetrates the flesh easily, about 1 hour.

Meanwhile, in a pot over medium-high heat, warm the oil. Add the onions and garlic and cook for about 4 to 5 minutes.

Transfer the squash to the pot and add the stock. Bring to a boil over medium-high heat, stirring occasionally. Add the cumin, honey and coconut milk and stir to combine.

Using a blender, puree the soup in batches until smooth. Return the soup to the pot. Add more broth if needed to reach the desired consistency.

Ladle the soup into bowls and garnish each serving with crispy bacon. Serve immediately.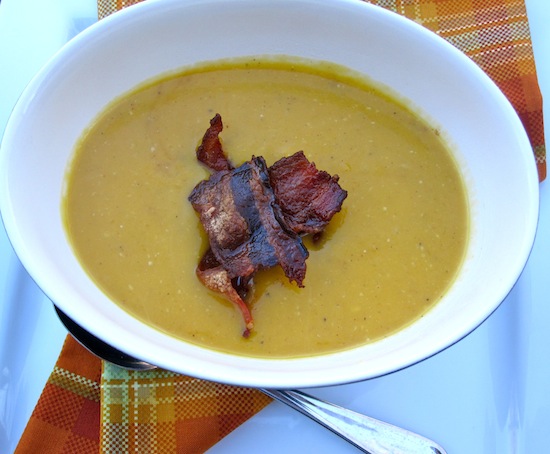 Wednesday was my birthday and I got a lot phone calls and messages from my friends and family....It is wonderful to know that people care about you. Thank you all for being there for me whenever I need to talk.
Now let me share with you this wonderful Butternut Squash-Coconut Soup I made a week ago that we loved.