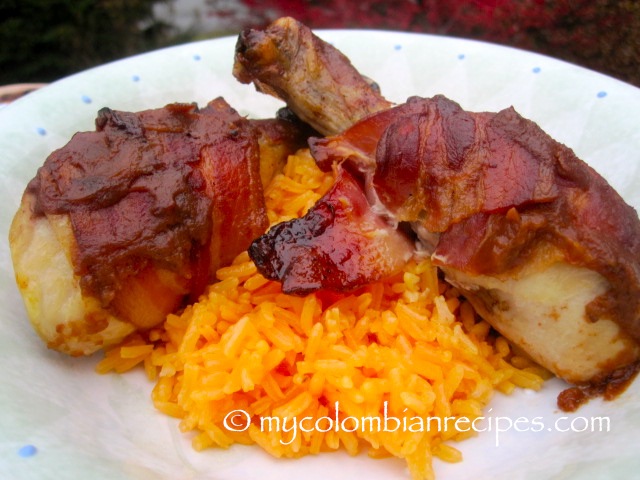 This Bacon Wrapped Chicken with Tamarind Sauce recipe has been sitting on my computer waiting to be shared for a couple of months! I made it for dinner on a weekend back in November, and then it got buried in my drafts folder. I'm not sure how I let that happen but it's time to remedy the situation.
I hope you enjoy making this recipe at your home, and find pleasure in the wonderful aromas and flavors this dish has to offer.
Buen provecho!
Ingredients
(4 servings)
8 bone-in, skin-on chicken legs
Salt and pepper
1/2 teaspoon of ground cumin
1/4 teaspoon ground thyme
1/2 teaspoon onion powder
8 thin slices of your favorite bacon

Sauce

2 garlic cloves, minced
1/2 cup chopped onion
1/2 cup of chicken stock
1 cup of tamarind pulp
Salt and pepper
2 tablespoons of sugar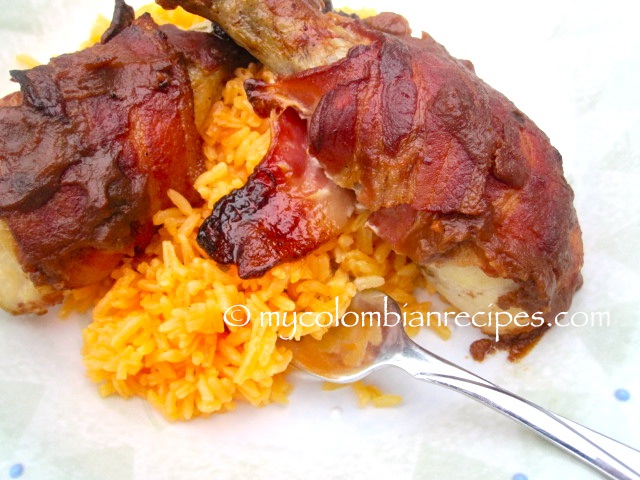 Directions
Place chicken legs in a dish and season with salt, pepper, cumin, thyme and onion powder.
Place all the tamarind sauce in the blender and set aside.
Preheat oven to 375°F.
Wrap a bacon slice around each chicken leg. Arrange the chicken on baking pan. Drizzle the tamarind sauce over the legs and place in the fridge for about 30 minutes.
Bake for about 45 minutes, until bacon is crisp and chicken cooked through.
This was printed from MyColombianRecipes.com