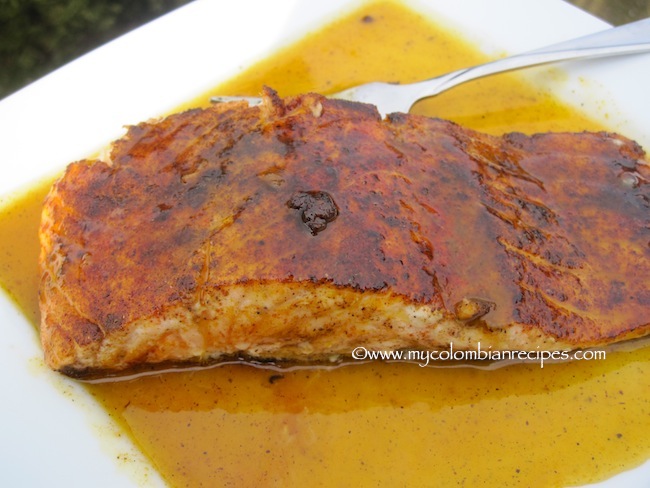 I hope you are all having a great summer! If you need a fabulous, yet easy and simple dish, then pick up some salmon, or your favorite fish, and marinate it in lime juice and crushed garlic. Then make this tangerine sauce and pour it over the fish, and you're good to go!
Buen provecho!
Ingredients
(4 servings)
4 salmon fillets
Juice of 2 limes
2 garlic cloves, minced
Salt and pepper
Olive oil

Tangerine sauce

2 tablespoon of butter
1/4 cup grated onion
1 cup of fresh tangerine juice
1 teaspoon of tangerine zest
2 tablespoons of honey
1/2 tablespoon of cornstarch
2 tablespoons of water
Salt and pepper
Directions
To cook the salmon: Place the salmon on a plate and add the lime juice, garlic cloves, salt and pepper and let it sit for about 20 minutes.
In a large pan over medium-high heat, warm the olive oil. Place the salmon in the pan and cook until golden brown underneath, about 2 minutes.
Turn the salmon over and continue cooking until golden underneath, about 2 minutes more for medium-rare, or until done to your liking.
Transfer the salmon to a platter, season with salt and cover with aluminum foil.
To make the sauce:
In a small saucepan over medium heat, melt the butter. Add the onion and sauté until the onion is tender, about 3 minutes. Add the tangerine juice, honey and tangerine zest and bring to a boil. Reduce the heat to low and simmer, stirring occasionally, until the mixture thickens, about 5 minutes.
In a small bowl, stir together the cornstarch and water until the cornstarch dissolves. Whisk the cornstarch mixture into the sauce and simmer until the sauce thickens, 1 to 2 minutes. Use immediately.
This was printed from MyColombianRecipes.com