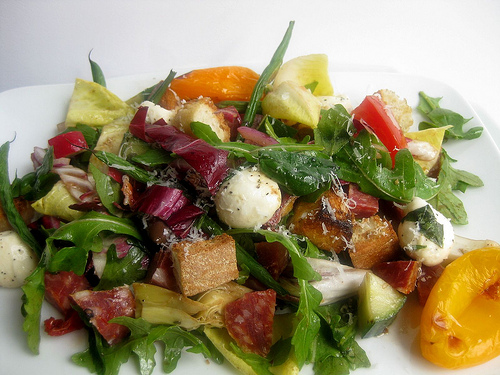 Guest posting today and sharing her delicious recipe is Joan Nova from "Foodalogue". Joan has a beautiful blog filled with fantastic recipes, travel stories and beautiful pictures.Thank you, Joan, for being here!
~Erica
Don't panic. It's really a simple salad. You probably have most of the ingredients (or reasonable substitutes). I must warn, however, "antipasta" is a misnomer here…you're not going to want pasta (or anything) after this. It is a complete meal in itself and a great quick dish for summertime. Feel free to add a glass (or two) of wine. I did.
1. arugula
2. radicchio
3. endive
4. cucumber
5. olives
6. fennel
7. parsley
8. basil
9. French stringbeans
10. red onion
11. marinated artichoke hearts
12. capers
13. olives
14. sweet roasted pepper
15. tomato
16. radish
17. garlic
18. toasted bread croutons
19. sopressata (Italian dry-cured salami)
20. bocaccini (mozzarella balls)
21. sun-dried tomato
22. olive oil
23. balsamic vinegar
24. parmigiana
25. salt
26. fresh ground black pepper
27. oregano
Like this recipe? Please say thanks by sharing it...