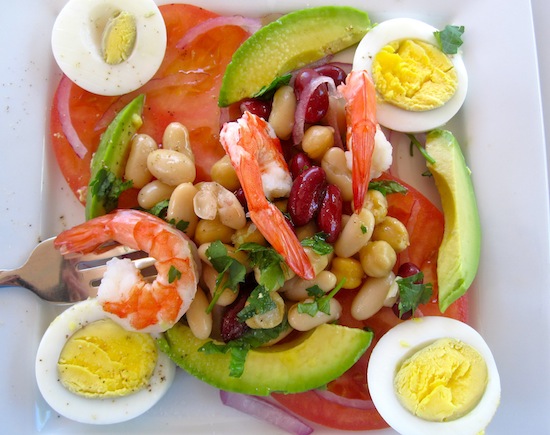 Today I want to share with you another yummy salad that I made myself for lunch this week. It was fresh, quick and delicious! For a vegetarian version just omit the shrimp.
Layers of flavors from fresh ingredients makes this salad a spring standout.
Buen provecho!
Ingredients
(4-6 servings)
2 red heirloom tomatoes, sliced
1/2 red onion, thinly sliced
3 cooked eggs, sliced
2 cups mixed beans (white beans, chickpeas, red beans)
1 avocado,peeled and sliced
12 cooked shrimp
Dressing
Juice of 1 lime
Juice of 1 lemon
1/4 teaspoon sugar
2 tablespoons white vinegar
1/4 cup chopped fresh cilantro
Salt and pepper
1 tablespoon olive oil
Directions
In a small bowl, whisk the vinegar, sugar, olive oil, salt, pepper, lime, lemon juice and cilantro, then set aside.
Place the tomatoes slices in a large plate, top the tomatoes with the beans, the onions, the avocado pieces, shrimp and cooked egg. Drizzle with dressing and serve.
This was printed from MyColombianRecipes.com