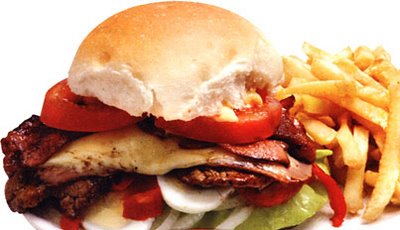 Pin
Guest posting today and sharing his delicious recipe is Gera from "sweets Foods". Gera lives in Uruguay(South America) and has a wonderful blog filled with great information.
~Erica
What's better than a chivito?..another chivito 😀 What am I talking about?
A "sandwich recipe" only found in my country, Uruguay!
What it isn't? It isn't a panini sandwich, or a ham sandwich, or a chicken sandwich -nor is it a gourmet hamburger!
Are you a sandwich maker? Then it'll be very easy to make and relish!
A little of History about the Chivito
Punta del Este (the most famous vacation-spot here and it's the Ibiza of South America!) was the cradle of its birth. In this city a lot of people, especially young people, go to bed at sunset after dancing all night. How do they do it? Simple, they take a little nap till midnight/1 a.m. and then straight to the nightclubs!
Why is the national sandwich of Uruguay called "chivito", which translates to "baby goat" or "little goat", yet it's made with beef?
As the story goes, while during a blackout one night at a restaurant, a woman customer asked if she could order goat meat, as she had recently tried this meat in another country. The restaurant owner told her that he was going to make a special dish for her with what he had on hand at that time. He was limited due to the blackout.
He prepared a toasted sandwich with butter, fillet Mignon and ham and seasoned it with other various ingredients that he had available that dark night. Although not the goat meat she had wanted, the woman was totally delighted and the "chivito" was born!
Shall we eat?
How to Prepare a Chivito Comun (Basic Chivito)
Ingredients:
• Bread (you can choose a sandwich roll, hamburger roll or it's up to you…experiment!)
• A thin steak, usually beef tenderloin
• Tomatoes
• Lettuce
• Ham
• Mozzarella cheese
• Mayonnaise
Method of Preparation
1. Cut the bread in halves, I like to toast it a little
2. Add mayonnaise on both sides
3. Grill your thin steak and sprinkle a pinch of salt
4. Put the ham and mozzarella cheese on the steak, warm till cheese melts
5. Make the tower, add sliced tomatoes and the lettuce
6. Put the half bread on top
7. Enjoy!
And the "toasted steak sandwich" called chivito has more options…
Chivito Canadiense (Canadian Chivito)
Nobody knows how the Canadian version came to be! Hey Canadian people, if you've some idea, you're welcome to share it 😉
It's the standard Chivito, plus these extra ingredients:
• Crispy bacon
• Sliced/halved hard boiled eggs
• Sliced onions
• Red peppers
• Sliced green olives
• Pickles
• Mushrooms
• Sliced palm hearts
You can add different sauces, ketchup, mustard as you might add to a hamburger recipe. Play with them to suite your taste…be imaginative 🙂
Chivito al Plato (Chivito on a Dish)
The same as the Canadian version without the bread and served on a dish. You'd add French fries, carrots and green bean salad. Basically, there's a mattress of veggies, potatoes or fried potatoes and on top, the meat with olives. Certainly the stack can vary depending on your wishes 🙂
The options are endless. Veggie chivito (take off the meat and you've a delicious vegetarian sandwich), chicken instead of beef and so on.
These Uruguayan chivitos are utterly customizable. No doubt…you'll be overjoyed!
What do you think? Do you like them just the way they are or would you like to make some changes? Give one of these recipes a try, you won't regret it!