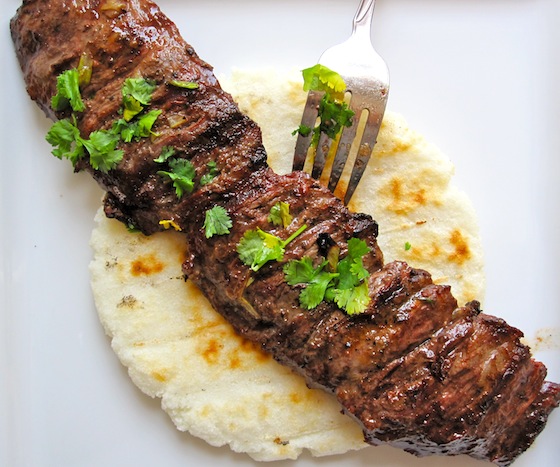 It was obvious growing up in Colombia that the kitchen was the main part of the house. It seemed that everything revolved around food and mealtimes.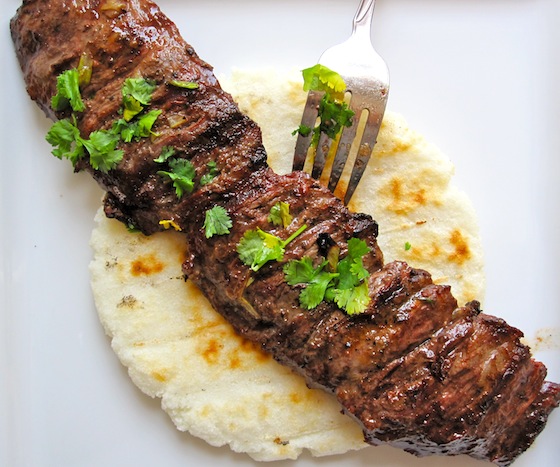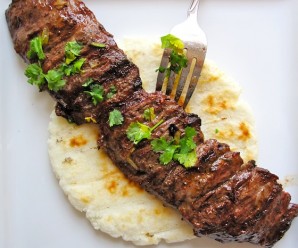 Arepa con Carne Asada (Arepa with Colombian-Style Grilled Beef)
Ingredients
4

cooked arepas

2

pounds

beef skirt

trimmed and cut into 4 equal portions

½

cup

finely chopped onion

4

garlic cloves

minced

2

scallions

finely chopped

1

teaspoon

ground cumin

½

cup

beer

1

tablespoon

vegetable oil

Salt and black pepper

¼

cup

fresh cilantro
Instructions
Mix the chopped onion, minced garlic, scallions, cumin, beer, oil salt and pepper together to make a marinade for the meat.

Rub the marinade on the steaks and let marinate for a bout 3 hours or overnight in the refrigerator.

Grill or fry the steaks over high heat to desired doneness, about 3 minutes on each side. To serve, top each arepa with a piece of meat, sprinkle fresh cilantro and serve immediately.
Mamita and my mom were always busy cooking traditional Colombian food. Homemade arepas were made for almost every meal and a jar of aliños sauce was always in the fridge or freezer waiting to be used as a marinade or as a base for soups and beans.
Arepa con Carne Asada was a staple in my house for weeknight dinners or weekend breakfast and it is one of my favorite meals. A simple dish that is easy to prepare and full of flavor.
Buen provecho!