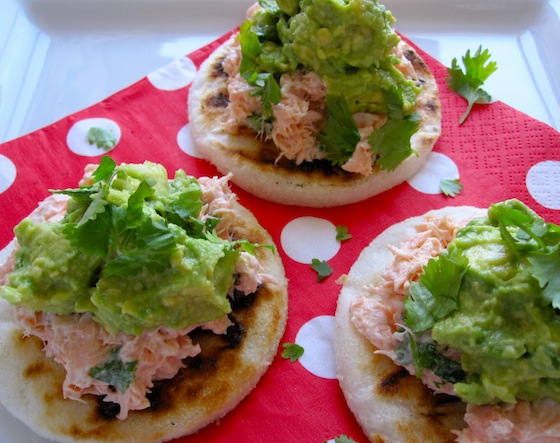 If I had a restaurant or cafe, I would be sure to have arepas with a large list of different toppings on the menu. Salmon with avocado would definitely be on that list! What a delicious combination.
For this recipe I made small arepas to serve as an appetizer and I really enjoyed them.
Buen provecho!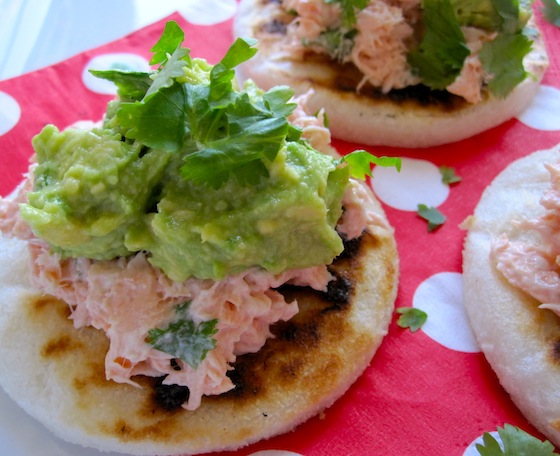 Ingredients
(8 servings as an appetizer)
8 small arepas
Fresh cilantro, finely chopped
1 ripe avocado
1 garlic clove, minced
1/4 teaspoon hot sauce
3 tablespoons of lime juice
Salt and pepper
1/2 cup grated onion
2 cups cooked, flaked salmon
6 tablespoon mayonnaise
1/4 teaspoon ground cumin
1/4 teaspoon paprika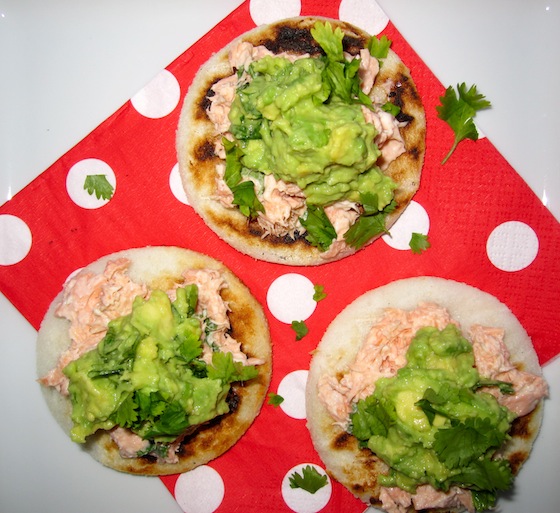 Directions
In a bowl, toss together the salmon,1/4 cup grated onion, cumin, paprika,1 tablespoon lime juice and mayonnaise.
Season with salt and pepper and toss to combine. Set aside.
Cut the avocados in half, remove the pits, and scoop the flesh out of their shells into a small bowl.
Add the lime juice, hot sauce, remaining onion, garlic, salt, and pepper and toss well. Mix well and taste for salt and pepper.
To assemble: Place the arepas on a platter and top them with the salmon.
Add avocado mixture on top of the salmon. Season with salt and pepper, to taste. Add fresh cilantro on top and serve.
This was printed from MyColombianRecipes.com