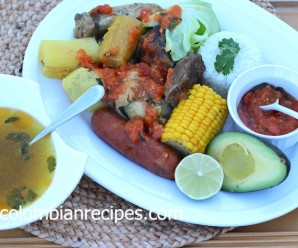 Puchero Santafereño (Colombian Beef, Chicken and Pork Stew)
Ingredients
3

ears fresh corn

cut into 3 pieces

12

cups

of water or more if needed

1

cup

of aliuños sauce

1

big whole chicken

1

pound

of beef

cut into pieces

1

pound

of pork meat or ribs

cut into pieces

6

chorizos

Salt and pepper

3

green plantains

peeled and cut crosswise into pieces

6

medium white potatoes

peeled and cut in half

2

pounds

frozen yuca cut into big pieces

½

small cabbage

cut into pieces

⅓

cup

chopped fresh cilantro

1

cup

of hogao

½

teaspoon

ground cumin

Salt and pepper
Instructions
In a large pot, place the beef, pork, chicken, corn, aliuños, salt and pepper. Add the water and bring to a boil, then cover and reduce heat to medium and cook for about 40 minutes.

Add the chorizos, potatoes, plantain, yuca, and cabbage. Continue cooking for 30 more minutes or until the vegetables are fork tender. Stir in the cilantro.

Taste and adjust the seasoning. Serve the broth in small bowls and garnish with fresh cilantro.

Place the rest of the ingredients on individual plates dividing the chicken, meats and vegetables evenly, then top with hogao and serve with white rice and avocado on the side.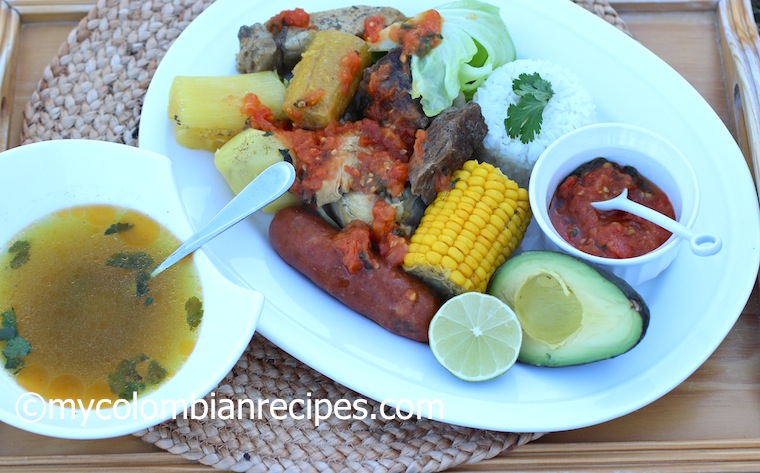 Today I am sharing another classic Colombian recipe with you, a hearty dish named Puchero Santafereño. This dish is named after Santa Fé de Bogotá, the capital of Colombia.
Puchero is a dish that originated in Spain, as is the case with many other Colombian dishes. When the conquistadors came to Colombia from Spain, they brought their food with them, and we adapted them over the years to fit our culture. This dish is not your every day meal, it is a feast on a plate and it is wonderful to share with the whole family on weekends.
Puchero Santafereño is a hearty and filling stew that usually includes beef, chicken, pork, plantain, yuca, potatoes, corn, chorizo, and cabbage. It is served with hogao, white rice and avocado slices. This is a one pot cooked dish, but at serving time, the broth is served first, and the vegetables and meats are served on a large plate drizzled with hogao.
Try Puchero Santafereño and enjoy traditional and authentic Colombian food on your dining table! Buen provecho!