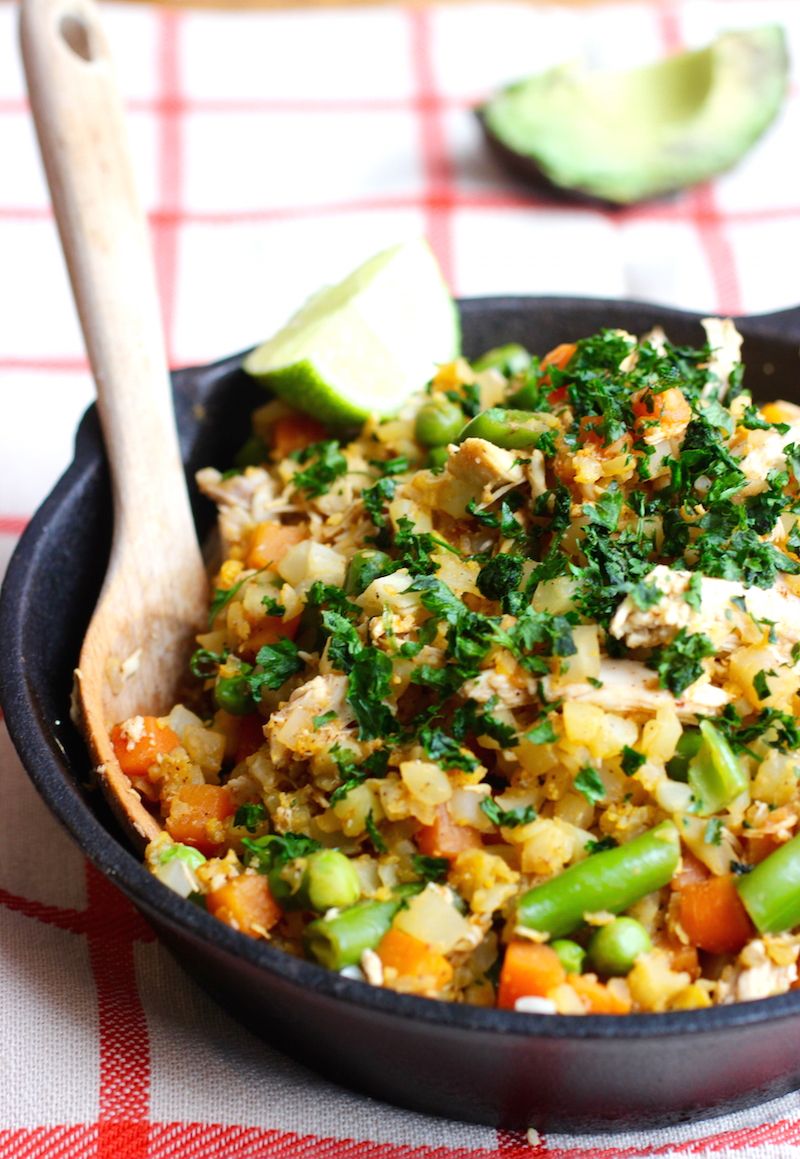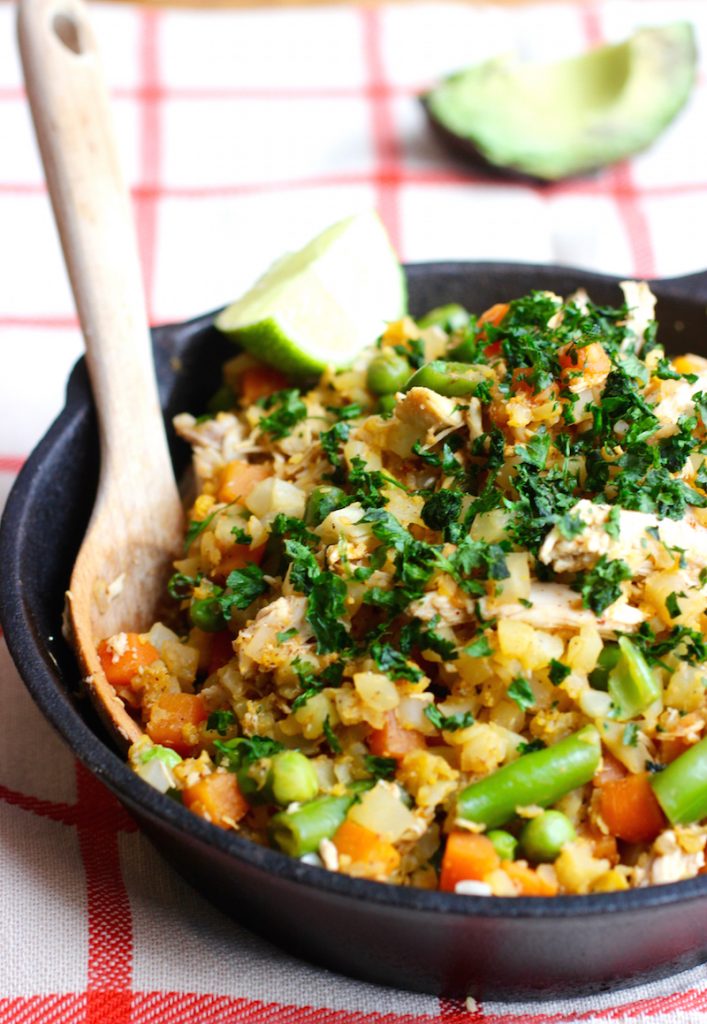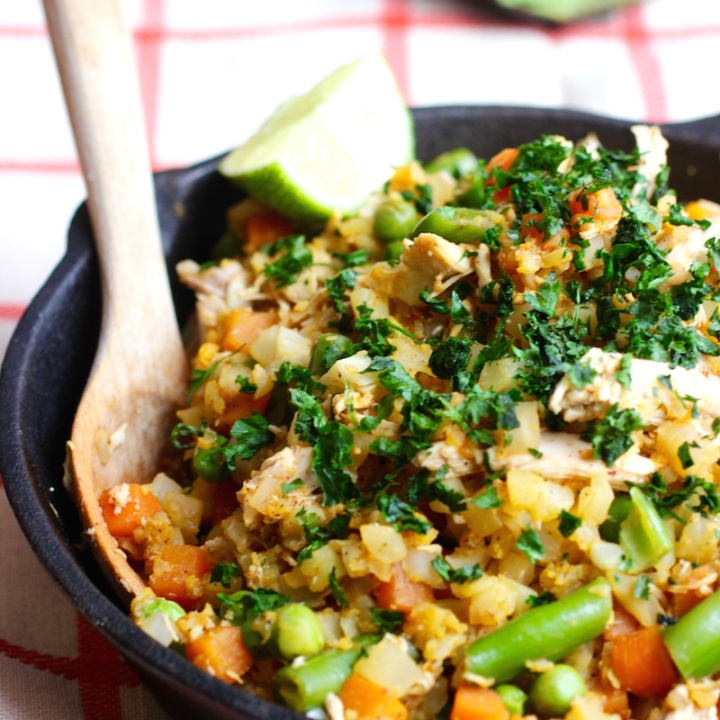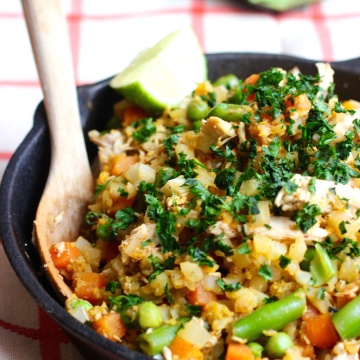 Cauliflower Rice with Chicken (Arroz de Coliflor con Pollo)
Ingredients
1

large cauliflower head

2

chicken breast

4

cups

of chicken broth

1

teaspoon

ground cumin

1

tablespoon

olive oil

1

small onion

finely chopped

¼

cup

chopped red bell pepper

2

garlic cloves

minced

½

teaspoon

ground achiote or color

1

tablespoon

tomato paste

1

cup

frozen peas and carrots

½

cup

frozen cut green beans

¼

cup

chopped fresh cilantro
Instructions
Place the chicken breast, chicken stock, cumin and salt to your taste in a medium pot. Bring to a boil, cover and reduce the heat to medium low. Cook for 20 to 25 minutes. Turn the heat off and let the chicken rest in the pot for about 15 minutes covered. Let it cool, shred and set aside. Strain stock and measure 1 cup and set aside.

Cut the cauliflower into florets, then place half of the cauliflower in a food processor and pulse until the cauliflower has the texture of rice, don't over process. Set aside and repeat with the remaining cauliflower.

In a medium sauce pan, heat the oil over medium-high heat. Add the onions, garlic and bell pepper. Cook until the onions are translucent, about 4 to 5 minutes.

Add the cauliflower rice, tomato paste and achiote. Stir until the cauliflower rice is well coated. Add the chicken stock, shredded chicken, the peas, carrots and green beans, stir well until everything is combined. Cover and cook for about 5 to 7 minutes more. Season with salt and pepper. Add fresh cilantro and serve.
Today I'm sharing my low carb version of one of my favorite Colombian dishes "Arroz con Pollo (Colombian-Style Rice with Chicken)". I love the traditional version of this popular dish and on days I crave my Colombian favorites but just feel like eating less calories, cauliflower rice gives me that comfort without all the carbs.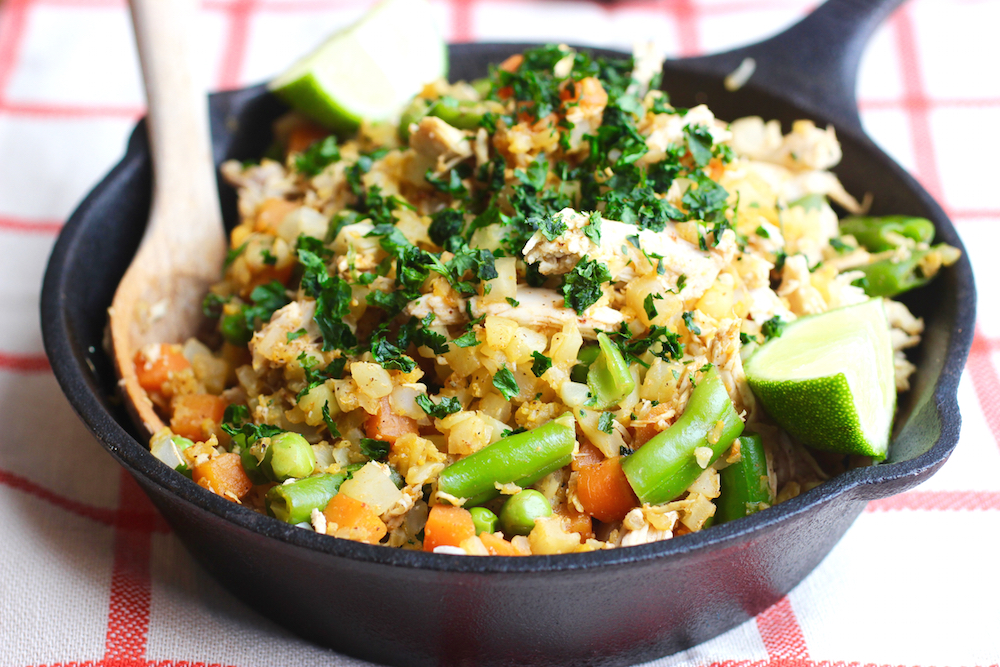 To make the cauliflower rice, just cut the cauliflower into florets then place them in a food processor and pulse a few times until it resembles rice. Or, use the largest side of a grater if you don't own a food processor. If you prefer to skip that step altogether, nowadays you can buy cauliflower rice in packages in the produce section or in bags in frozen section of your local market. I prefer to make it myself as it tastes better fresh.
If you are trying to eat less carbs, I know you will enjoy this Cauliflower "Arroz con Pollo" recipe.
Buen provecho!