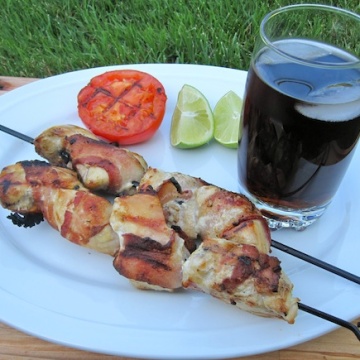 Chuzos de Pollo con Tocineta (Chicken and Bacon Skewers)
Ingredients
2

tablespoons

olive oil

2

garlic cloves

minced

1

Tbs.

minced fresh cilantro

¼

cup

onion

finely chopped

1

scallion

finely chopped

½

teaspoon

ground cumin

Salt and pepper

1

lb.

boneless

skinless chicken breasts, cut into pieces

6

slices

of bacon

cut into pieces
Instructions
In a large bowl, combine the oil, garlic, cilantro, onion, scallion, cumin, salt and pepper. Stir in the chicken. Cover and marinate in the refrigerator for about 3 hours or overnight.

Meanwhile, preheat a gas grill. Place the entire wooden skewers in water and let stand for at least 30 minutes.

When the grill is hot, drain the skewers. Wrap the chicken chunks with bacon and thread onto skewers so that the bacon is secured.

Adjust the grille so that the permimeter burners remain on and the burners at the center of the grille are turned off, or a similar configuration (follow directions as closely as possible if not using a gas grille).

Place the skewers on the perimeter of the grill rack directly over the flame. Grill, turning the skewers once or twice, until the chicken is browned, about 5 minutes total.

Move the skewers to the center of the grill rack so they are not directly over the flame. Cover the grill and cook, turning the skewers occasionally, until the chicken is opaque throughout and the juices run clear, 10 to 15 minutes more.

Transfer the skewers to a platter or individual plates and serve with lime wedges and your favorite vegetables.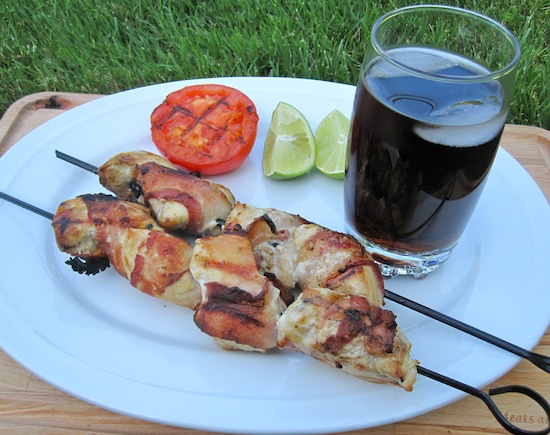 I love any type of "chuzos", which is what we call kebabs or skewers in Colombia. It doesn't matter if it's beef, pork, chicken or seafood, I just love eating food grilled on a stick. Don't you?
To make a good Colombian chuzo, you need a good marinade. I used a combination of cumin, cilantro, salt, pepper, garlic, onions, scallions and olive oil for my marinade. This marinade is great to season any type of chuzos. It is popular in Colombia to add a small arepa and a salted potato to the chuzos tip, but you can serve them with just potato if you don't have arepa.
Buen provecho!