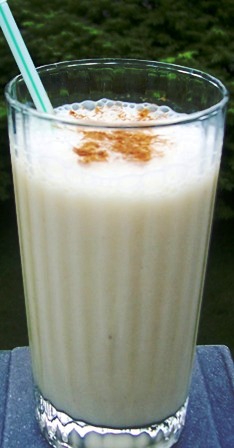 We Colombians love fruit juices and in fact, we end almost all our meals with them. Jugos de fruta are very popular in Colombian restaurants and homes. My mom would make a pitcher of some sort of fruit juice every day for us when I was growing up. Some people prefer the juices made with water and some prefer them with milk, either way if you visit a Colombian home, they will offer you juice instead of soda, as that is part of our culture. This banana drink (Jugo de Banano) is one of my favorites. Try it!
Ingredients
(2 Servings)
1 cup milk
2 ripe large bananas, peeled and cut into chunks
¼ teaspoon vanilla extract
1 ½ teaspoon sugar
Pinch ground cinnamon
¼ cup crushed ice
Directions
Place all the ingredients in a blender until smooth.
Serve immediately and enjoy.
This was printed from MyColombianRecipes.com