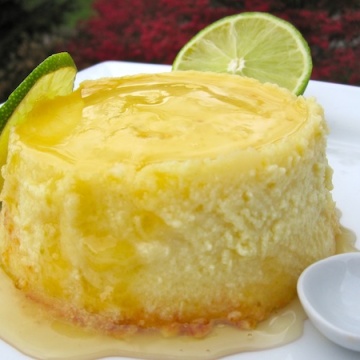 Flan de Limón (Lime Flan)
Ingredients
1

cup

sugar

½

cup

of water

Zest of 4 limes

Juice of 2 limes

1

tablespoon

corn starch

8

Whole eggs

1

can sweetened condensed milk

1

cup

whole milk

1

cup

heavy cream

2

tablespoons

sugar

½

teaspoon

of vanilla extract
Instructions
To make the caramel, bring 1 cup of sugar and ½ cup of water to a boil over medium heat and boil until it gets a light brown color, about 6 - 8 minutes.

Immediately pour an equal amount of the caramel into each ramekin or any oven proof mold you want to use. Swirl each dish to coat the base with the caramel, work fast as the caramel will harden quickly as it cools. Place all the ramekins in a large oven dish.

To make the flan: Preheat the oven to 350° F.

Combine the lime juice with the corn starch in a small bowl. Set aside.

Beat the eggs with an electrical mixer, add the lime mixture, milk, heavy cream, sweet condensed milk, sugar, vanilla, and the zest.

Carefully pour an equal amount of the flan mixture into the caramelized ramekins in the roasting pan. Then add hot water to the roasting pan, not to the ramekins, until the water comes half way up the sides of the ramekins.

Place the roasting pan in the oven and bake for 1 hour or until a knife inserted in the center of the flan comes out clean.

Remove from the roasting pan and cool for at least 30 minutes. Then cover and refrigerate for at least 2 hours.

To serve, carefully run a knife around the edge of the ramekin, cover with a serving plate, flip it over and gently remove the ramekin allowing the caramel run over the sides.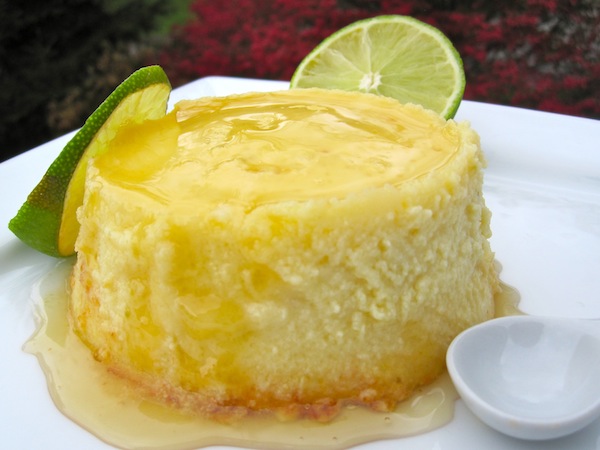 I love making variations of the classic Vanilla Flan. This time I decided to make it with one of my absolute favorite ingredients, limes. I wasn't sure how it would turn out, but it was a success! Fresh, creamy and absolutely delicious, the perfect ending to any meal!
Buen provecho!