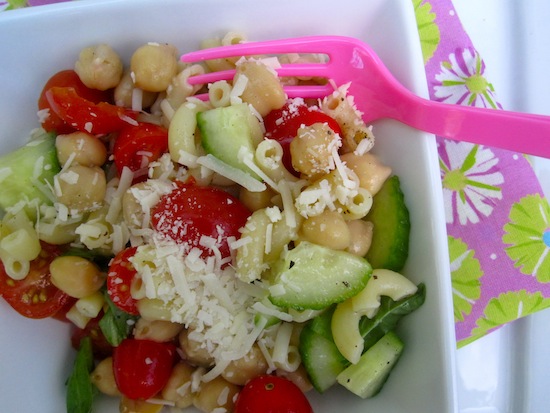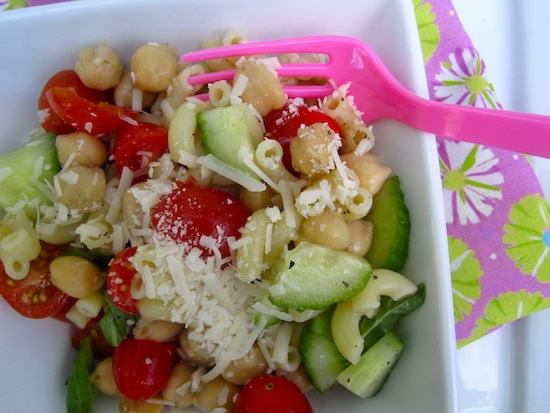 My lunches have changed since moving to the US, obviously, as I live a different life, in a different country.
Growing up my mom always made a good lunch. Everytime we came home from school, lunch was waiting for us at the table. She usually made soup, salad, fresh fruit juice and a main dish. I have to confess that I used to be a picky eater, so I was not a huge food fan, but I miss those delicious lunches that my mom used to make.
I hope you enjoy this Pasta and Chickpea Salad that I made for my lunch this week. It was easy, simple, healthy and really good.
Ingredients
1/2 lb cooked elbows
1 can (15 oz) chickpeas
1 pin grape tomatoes
1 cucumber, chopped
Basil to your taste
Parmesan cheese
Dressing
Juice of 3 lemons
3 tablespoons olive oil
1/4 teaspoon sugar
1 garlic clove, finely chopped
salt and pepper
Directions
Place the pasta in a bowl and add the tomatoes, cucumber and chickpeas.
To make the dressing: Whisk together the ingredients to emulsify.
Pour the dressing over the pasta, sprinkle with the Parmesan and basil, and toss well.
This was printed from MyColombianRecipes.com