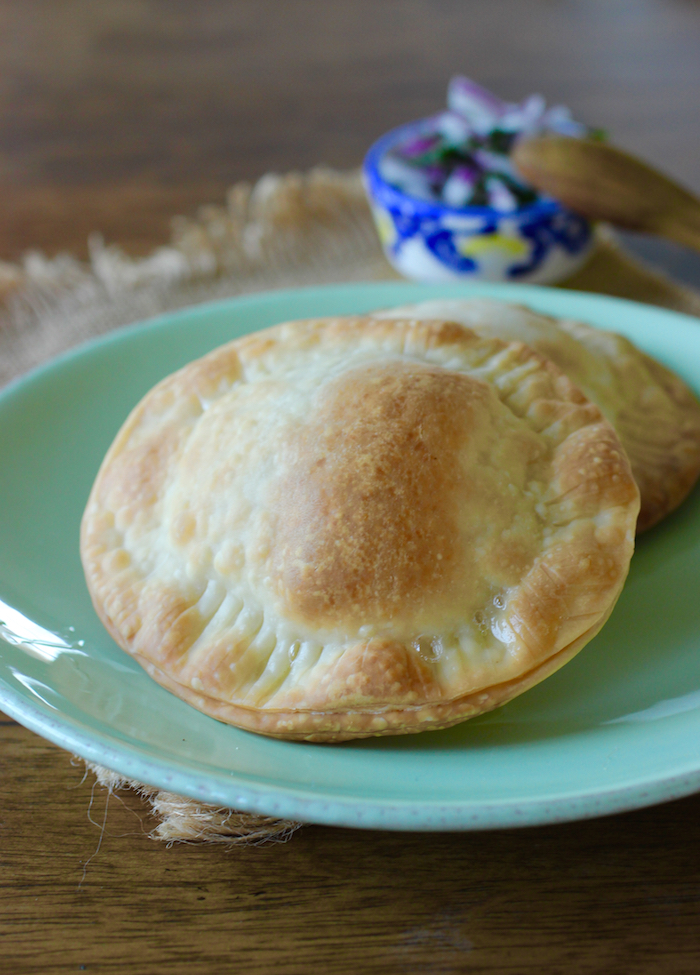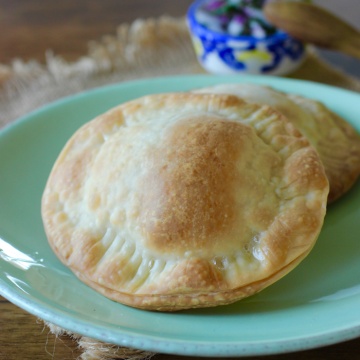 Pasteles de Garbanzos (Chickpea Pies)
Ingredients
Vegetable oil for frying

1

and ½ cups of all-purpose flour

¼

teaspoon

of salt

½

teaspoon

of baking powder

½

stick of butter

cut into pieces

1

teaspoon

of sugar

10

tablespoons

of water add more if needed

1

and ½ cups of cooked chickpeas

1

teaspoon

olive oil

1

garlic clove

minced

2

scallions

chopped

½

teaspoon

ground cumin

Salt and pepper to your taste

Juice of 2 limes

½

cup

of red onion

diced

¼

teaspoon

ground cumin
Instructions
Mix the flour, salt, sugar and baking powder in a food processor. Add the pieces of butter and pulse until mixed.

Add the water and mix until dough starts to form. Form a ball with the dough and knead. Place the dough in bowl, coat with small amount of oil, cover and let rest at room temperature for about an hour.

To make the discs, roll out the dough into a thin layer and cut out round disc shapes. The discs can be used immediately or stored in the refrigerator or freezer to use later.

Place the cooked garbanzos in a food processor and process for 1 minute. Place the olive oil in a small pan, add the scallions and garlic. Cook for a couple of minutes. Add the mixture to the chickpeas and mix well. Season with salt and pepper to your taste.

To assemble and fry the pastelitos: Use a spoon to place the filling on to the center of each disc. Place another disc on top and seal the edges using a fork to press down and seal. If you have time, I recommend chilling the pastelitos for 30 minutes before frying them.

Heat the oil and fry each pastelitos until they are golden on each side. The oil should bubble when you add the pastelitos. Place the fried pastelitos on paper towels to drain extra oil. Serve warm with ají.
Pastel de Garbanzo is a popular dish from El Norte de Santander department of Colombia, located in the northwestern zone of the Andean Region, bordering Venezuela.
Like all traditional Colombian dishes, each family has its own version, so feel free to adapt this dish as you like. This recipe of Pasteles de Garbanzos is made without meat, but some cooks add ground beef or pork to the chickpeas mixture. They are traditionally served with ají ocareño, also known as ají de cebolla roja (red onion sauce) and ají de aguacate (avocado ají).
Cook note: If you prefer making the dough by hand, follow the same instructions below but instead use your hands to mix the ingredients together.