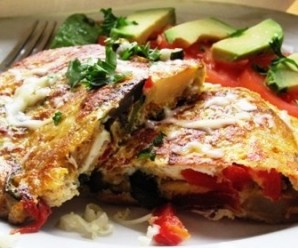 Roasted Vegetables Frittata
Ingredients
½

zucchini

sliced

1

small red bell pepper

⅓

cup

sliced onions

¼

cup

chopped portobello mushrooms

1

large potato

diced

1

teaspoon

fresh thyme

¼

cup

olive oil

Salt and pepper

2

tablespoon

olive oil

1

teaspoon

ground cumin

1

teaspoon

paprika

3

beaten eggs

½

cup

grated fontina cheese

¼

cup

chopped parsley
Instructions
Pre-heat the oven to 350° F.

Line a baking sheet with parchment paper. Place the sliced vegetables on the baking sheet and drizzle with olive oil. Add the thyme and season with salt and pepper.

Place in the oven and bake for 35 minutes or until the vegetables are cooked and set aside.

While the vegetables are cooking, beat the eggs in a medium bowl. Add the parsley, paprika, cumin, fontina cheese and salt and let it rest for 1 minute.

Add the vegetables and egg mixture to the pan, decrease the heat to medium low, shake the pan gently to be sure the omelet doesn't stick and cook about 4 minutes.

Place a large plate on top of the pan. Flip the pan over so that the tortilla transfers to the plate. Very carefully slide the tortilla back to the pan so as to cook the other side and continue cooking for 3 more minutes or until done. Transfer the tortilla to a large plate. Let it rest for 5 minutes and cut into slices. Serve warm or cold, either way is delicious.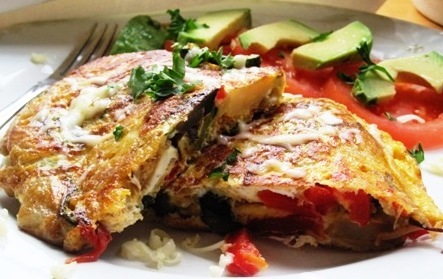 Frittata is a deliciously simple dish when cooked with your favorite ingredients. You can experiment with many types of vegetables depending on the season or just stick with your favorites. My husband enjoyed this roasted vegetables frittata very much and said that it was absolutely delicious! This also makes for a great vegetarian dish.