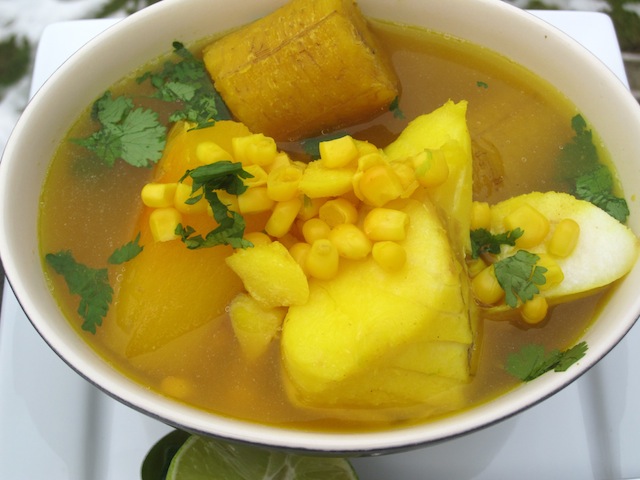 Sancocho is a traditional Colombian dish and is prepared many different ways throughout the country. You'll find fish, peas, beef and chicken, pork and bean Sancocho in Colombia.
Sancocho is a soup made with plantain, yuca, potato, corn, and the meat of your choice, It is a hearty, comforting and delicious dish that is usually served with white rice , salad , aji, lime and avocado on the side. This Sancocho de Pescado is popular on the Coast of Colombia.
Ingredients
(4- 6 servings)
1 tablespoon olive oil
1/2 small onion, finely chopped
2 garlic cloves, minced
1 scallion, finely chopped
2 pounds of cod fish fillets
10 cups of fish stock
2 green plantains, peeled and cut into pieces
2 corn ears
1 pound yuca (cassava), cut into pieces
1 teaspoon color, sazon goya with azafran or achiote
Salt and pepper
1 teaspoon ground cumin
1/3 cup fresh cilantro, chopped
Directions
In a large pot, over medium heat, place the olive oil, onions, scallions and garlic. Cook for 5 minutes.
Add the fish stock, achiote, ground cumin and bring to a boil. Then reduce the heat to medium-low. Add the plantains, corn, yuca, salt and pepper. Simmer covered for about 25 to 30 minutes.
Add the fish and chopped cilantro. Cook for 12 minutes and serve with white rice, lime and avocado on the side.
This was printed from MyColombianRecipes.com