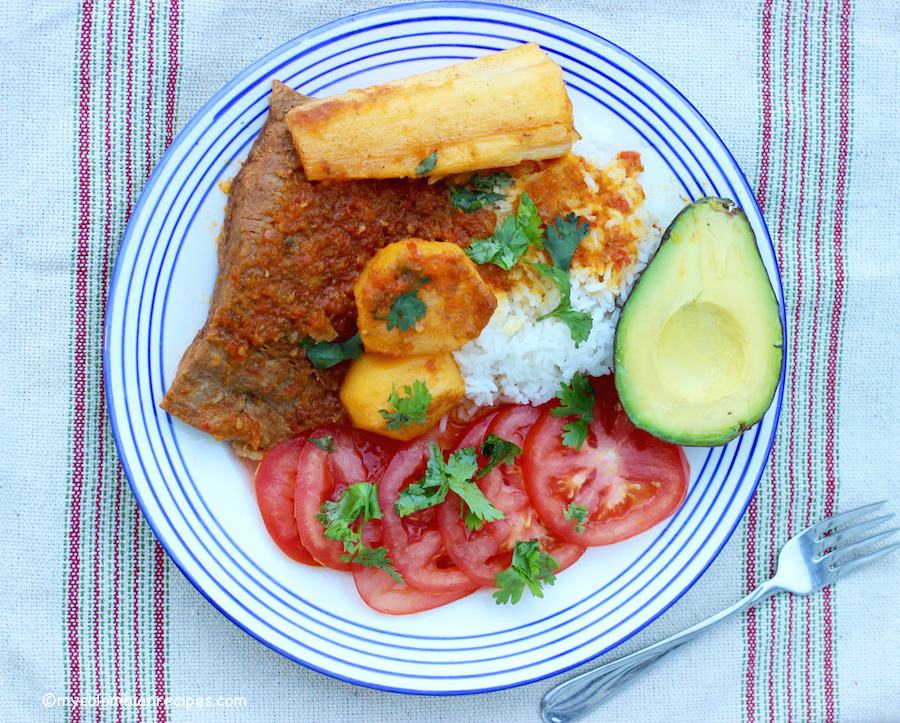 Happy Summer everyone! I hope you are enjoying the warm weather. My kids are out school, so my schedule is quite different than during the school year when I am shuttling the kids' to and from schools. So now that I have a bit more time to spend in the office, I am trying to post new recipes more often again, while I continue to translate recipes for the Spanish language area of the site.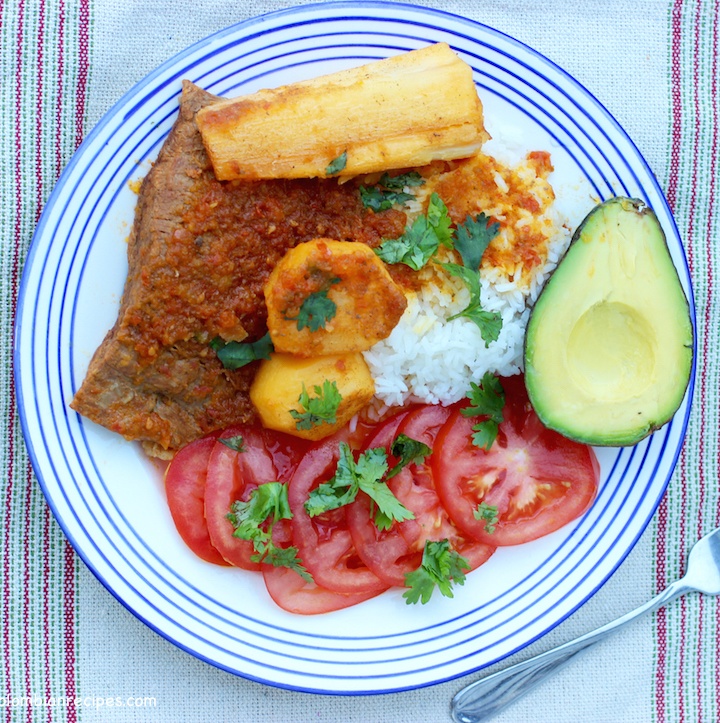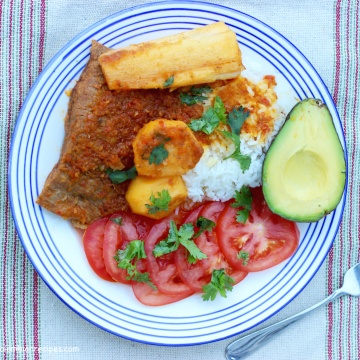 Sobrebarriga Sudada (Flank Steak Stew)
Ingredients
2

pounds

of flank steak

cut into large pieces

5

cups

water

1

cup

of aliños sauce

see the recipe here

2

cups

chopped tomato

½

teaspoon

cumin powder

Salt and pepper to taste

6

potatoes

peeled and cut in half

½

pound

frozen or fresh yuca

cassava

Fresh cilantro
Instructions
In a large pot place the beef, water, aliños sauce, tomatoes and cumin powder. Bring to a boil, then reduce the heat to medium low cover and cook for about 1 hour and 30 minutes, stirring occasionally. Add more water if necessary.

Add the potatoes and yuca. Cook for an additional 30 minutes or until the vegetables and meat are tender.Sprinkle fresh cilantro and serve over white rice.
Today I want to share the recipe for Sobrebarriga Sudada, a popular dish in my house growing up. Sudado is a very typical Colombian dish that can be found in nearly every region of the country. It can be made with any meat (sudado de res - beef, sudado de albóndigas - meatballs, sudado de pollo - chicken – sudado de pescado - fish, etc.), along with potatoes, yuca, vegetables, and spices in a delicious sauce. This classic dish has many different interpretations, but no matter the differences in recipes, it is usually accompanied by white rice.
Whenever I talk to my mom in Colombia, I ask what is she making for lunch or dinner. A couple of weeks ago she told me she was making Sobrebarriga Sudada, which immediately triggered a craving and I just had to make it too!
This dish took me back to my childhood. It's very easy to make and very comforting. I usually don't like leftovers, but this is one of the dishes I look forward to eat the next day.
Buen provecho!