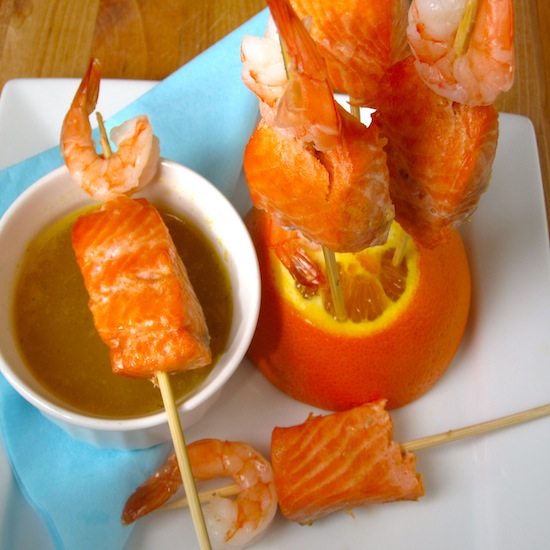 It is officially Spring and you can't imagine how happy I am! I feel a little bit bad that winter is gone because I really enjoy cooking and eating winter food, but I absolutely love Spring. It feels just like my home city, Medellin, which is known as "the city of eternal Spring"!
The trees are beginning to bud and the  flowers are blooming. There is something special about this season, there are so many things to love about spring. Don't you think?
Now, let me introduce you to my Shrimp and Salmon Skewers. They are a fantastic and simple appetizer and with the orange sauce, it is a combination made in heaven.
The orange sauce or salsa de naranja can be used with your favorite meat as well. My aunt always made this sauce in Colombia for parties and I just love it.
Buen provecho!
Ingredients
(About 12 to 15 appetizers)
Orange Sauce
1 cup fresh orange juice
1 cup water
2 teaspoons cornstarch
2 1/2 tablespoons sugar
2 teaspoons lime juice
2 teaspoons butter
Salt and pepper
Skewers
1 1/2 pounds salmon, cut into small pieces
12 to 15 cooked large shrimp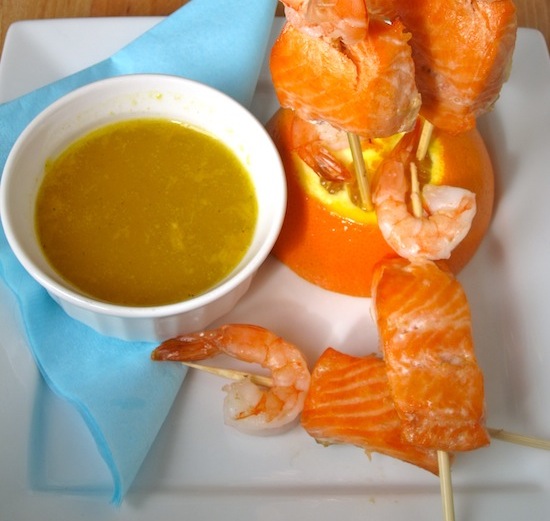 Directions
To make the sauce: in a small bowl dissolve the corn starch with 3 tablespoons of water.
Over medium-low heat, place a small pot and add all the ingredients for the sauce. Stir constantly until the sauce is thick about 10 minutes. Set aside.
For the skewers:
Preheat the oven to 400°F.
In a large baking dish place the salmon pieces. Season with salt and pepper.
Place the baking dish in the oven and bake for 15 to 20 minutes or until the salmon is cooked through.
Assemble small skewers with one piece of salmon and one shrimp. Serve with the orange sauce on the side.
This was printed from MyColombianRecipes.com