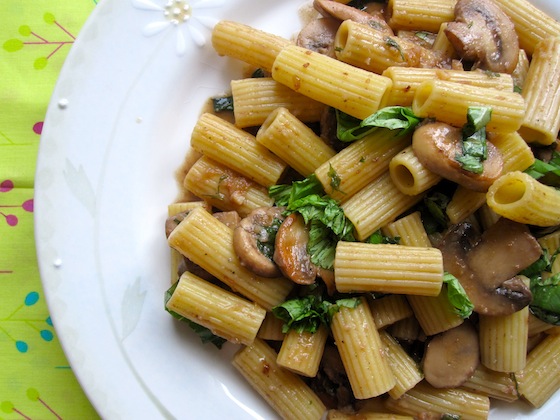 I have been cooking more meatless dishes the last couple of years. My husband became a vegetarian about 3 years ago, so I am developing some recipes for him. Why haven't we decided to turn 100% vegetarian in this house? Well, simply because I love my meat, seafood and poultry!
Cooking a meatless meal is not challenging at all. I have been enjoying experimenting with nutrition, flavors and ingredients to make sure that the vegetarian meals I serve are fun, healthy and delicious.
Buen provecho!
Ingredients
(4-6 servings)
2 pounds organic portobello mushrooms, sliced
1/3 cup olive oil
2 Tablespoons butter
1/4 finely chopped onion
4 garlic cloves, crushed
1/2 cup red wine or vegetable stock
3 fresh thyme sprigs
Salt and pepper, to taste
1 pound dried pasta
1/2 cup fresh basil
Directions
In a large, heavy pan over medium heat, warm the olive oil and butter.
Add the onion and garlic and sauté until golden and fragrant, about 2 minutes.
Add the mushrooms and sauté, stirring with a wooden spoon, until they begin to soften, 3 to 4 minutes. Increase the heat to high, add the wine or stock and thyme.
Cook, stirring constantly, about 3 minutes. Reduce the heat to low, season with salt and pepper and continue to cook, stirring often, until the mushrooms are cooked through and all the liquid has evaporated, about 15 minutes more. Add the fresh basil.
Meanwhile, bring a large pot with water to a boil over high heat. Salt the boiling water, add the pasta and cook until al dente, about 8 minutes. Drain, reserving about 1/4 cup of the cooking water.
When the mushrooms are ready, remove from the heat. Add the pasta and toss, adding the reserved cooking water if the pasta seems too dry. Serve with a green salad
Like this recipe? Please say thanks by sharing it...