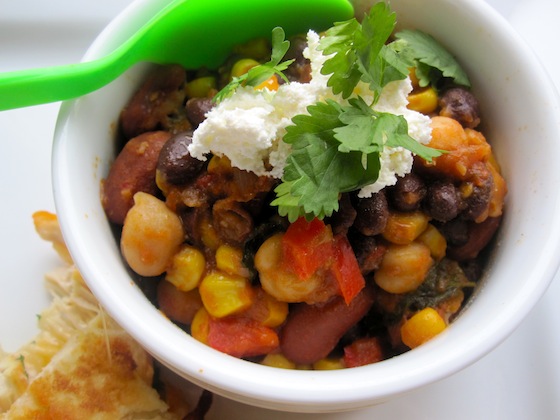 In this simple meatless chili recipe, I have combined different kinds of beans with onions, garlic, dried chili, tomatoes, corn, tomato paste, cumin, red and green peppers, with vegetable stock. This is all simmered until the vegetables are tender. The addition of the cream cheese, flavored with cumin, and the fresh cilantro on top are a wonderful and refreshing touch to this dish.
This chili also makes for a delicious hot dog topping.
Buen provecho!
Ingredients
3 tablespoons olive oil
½ cup finely chopped onion
3 garlic cloves, minced
1 green pepper, finely chopped
1 red bell pepper red pepper, finely chopped
1 (15 oz) can black beans, rinsed and drained
1 (15 oz) can red beans, rinsed and drained
1 (15 oz) can pink beans, rinsed and drained
1 (15 oz) can garbanzo beans, rinsed and drained
1 (15 oz) can corn
1 (15 oz ) can diced tomatoes
1 1/2 cups vegetable stock or water
2 dried chili de Arbol or to your taste
1 teaspoon ground cumin
Salt and pepper
½ teaspoon sugar
1 tablespoon tomato paste
½ cup chopped fresh cilantro, plus more for garnish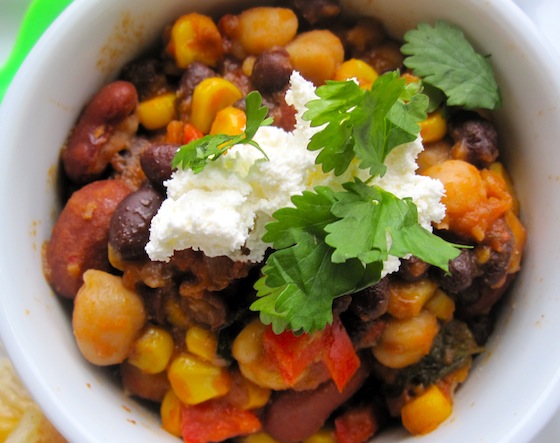 Directions
In a small pot over medium-low heat place 1/2 cup of water and dried chili. Cook for about 10 minutes. Drain chili and place in a blender with tomatoes and vegetable broth.
Heat the oil in a large pot over medium high heat. Add the onions and cook for about 3 minutes. Reduce the heat to medium and add the garlic, red and green pepper and cook for additional 2 minutes. Add the cumin, and cook for 30 seconds more.
Add the beans and tomato-chili mixture to the pot and simmer for about 15-20 minutes.
Add the sugar, cilantro and tomato paste. Cook for 5 minutes more. If the chili is too thick, use some of the broth you set aside. Add salt and pepper to taste.
This was printed from MyColombianRecipes.com