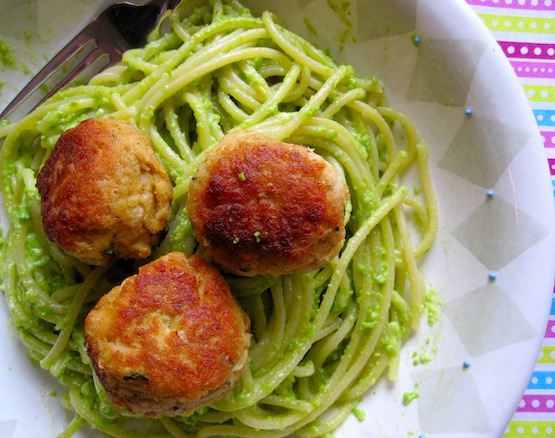 Do you keep tuna cans in your pantry for quick meals like I do? If you don't, you'll have to get some to try this wonderful tuna balls recipe. They are amazing on a bed of pasta, tossed with pea pesto.
The pea pesto is delicious, and you won't miss the basil, I promise. I served this fabulous Pasta with Tuna Balls with a green salad on the side. It is an easy and fabulous meal for the whole family.
Enjoy it!
Ingredients
(4 servings)
For the Tuna balls

2 (7-ounce) tuna cans, drained.
1/4 cup finely chopped onion
1/4 teaspoon garlic powder
1 teaspoon yellow mustard
2 large eggs, beaten
1 teaspoon freshly squeezed lime juice
Salt and pepper
3/4 cup bread crumbs
Olive oil

Pea and Walnut Pesto

1 (10-ounce) package frozen peas, defrosted
1 garlic clove
1/2 cup grated Asiago cheese
1/2 cup walnuts
1 tablespoon lemon juice
Salt and pepper
1/3 cup olive oil
1 pound your favorite pasta
Directions
To make the tuna balls:
Place the tuna, onions, mustard, lime juice, eggs, garlic powder, salt, pepper and the bread crumbs into a medium mixing bowl and stir to combine.
Divide the mixture into balls and set aside on a parchment lined pan. Allow to rest for 15 minutes.
Heat enough olive oil to cover the bottom of a saute pan over medium heat.
Add the tuna balls and cook 2 to 3 minutes on each side or until golden brown.
Remove to a plate lined with paper towels. Set aside.
To make the Pea-Pesto:
Pulse together the peas, Asiago, garlic and walnuts in a food processor. With the machine running, slowly add the olive oil until well combined.
Season with salt and pepper, if needed. Transfer to a small bowl and set aside.
To make the pasta:
Bring a large pot of water to a boil over high heat. Add the 2 Tbs. salt and the pasta to the boiling water. Cook, stirring occasionally to prevent sticking, until al dente, according to the package instructions. Drain, reserving about 1/2 cup of the cooking water.
In a serving bowl, mix 1/4 cup of the cooking water with 2 cups of the pesto. Store the rest for another use. Add the drained pasta and toss to combine.
Add as much of the remaining cooking water as needed to loosen the sauce. Serve with tuna ball on top.
This was printed from MyColombianRecipes.com