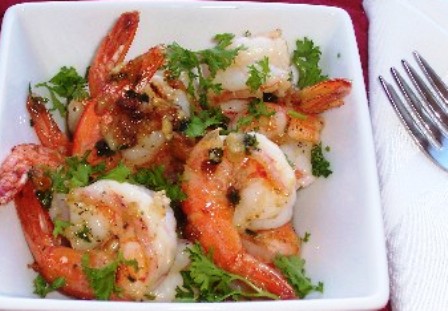 This Camarones al Ajillo appetizer is really simple and quick to make, yet it is delicious and elegant. Serve with lemon wedges and fresh bread on the side.
Ingredients
(5-6 SERVINGS AS AN APPETIZER)
2 tablespoons butter
5 tablespoons olive oil
8 garlic cloves, finely sliced
¼ teaspoon dried hot red pepper flakes
Salt and black pepper to taste
2 tablespoons chopped parsley, plus more for garnish
1 pound large shrimp, peeled and deveined
Directions
In a large heavy skillet, heat the butter and olive oil over low heat. Add the garlic, red pepper flakes, salt and black pepper and cook about 4 minutes, stirring occasionally, until the garlic is tender but not browned.
Increase heat to medium and add shrimp and sauté, turning the shrimp once with tongs, until shrimp are just cooked through, about 2 minutes each side.
Add the parsley and cook for another 2 minutes. Using tongs, remove the shrimp from the pan, pour the sauce over the shrimp, garnish with parsley, and serve immediately.
If you like this page, you can say thanks by sharing it :-)