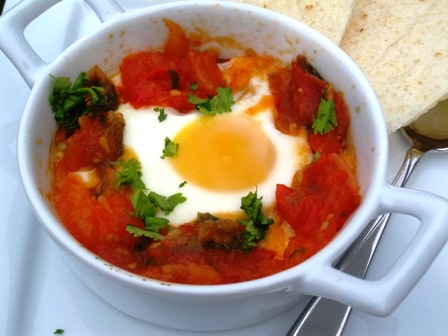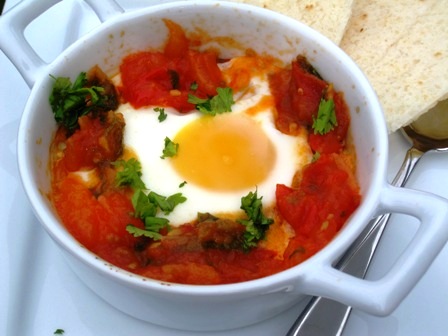 Huevos pericos or scrambled eggs with tomato and scallion sauce, is a traditional Colombian breakfast. I was craving these eggs this morning but I wanted to make them a little different yet with the same delicious taste of the tomato and onion. So, I decided to make a hogao, which is a Colombian tomato and onion sauce, and cook a whole egg, instead of scrambled, in the hogao and serve it with arepa. Well, the variation turned out well. It was a great breakfast!
Ingredients
(2 Servings)
1 cup cooked hogao
2 large eggs
Salt
Fresh cilantro for garnish
2 arepas for serving
Directions
Heat the broiler to high.
On the stove heat a small oven proof dish over medium-low heat. Add 1/4 cup of the hogao and crack one egg into the hogao.
Carefully add another ¼ cup of the remaining hogao over the whites of the eggs. Cover the dish and cook for 2 minutes. Uncover the dish and set under the broiler until the yolks are cooked, but soft. About 2 more minutes.
Remove the dish from the oven. Sprinkle cilantro and serve immediately.
This was printed from MyColombianRecipes.com