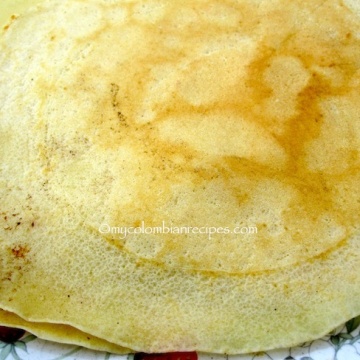 Crepes con Arequipe (Dulce de Leche Crepes)
Ingredients
1

large egg

6

tablespoons

of milk

¼

cup

of water

1

cup

flour

2

tablespoons

of melted butter

Butter

to cook the crepes

Arequipe or Dulce de Leche for the filling
Instructions
In a blender, combine all the ingredients and blend until well combined. Place the crepe batter in the refrigerator for 20 minutes.

In a heavy small non stick skillet or crepe pan, lightly brush the pan with melted butter and heat over medium-high heat. Pour in about 3 tablespoons of batter and tilt the pan to coat.

Cook for 1 or 2 minutes and then flip with a thin metal spatula to finish cooking the other side, another minute.

Repeat with remaining batter. Keep the crepes warm while preparing the rest of the crepes.

To assemble: Spread some arequipe filling in the center of each crepe and fold or roll.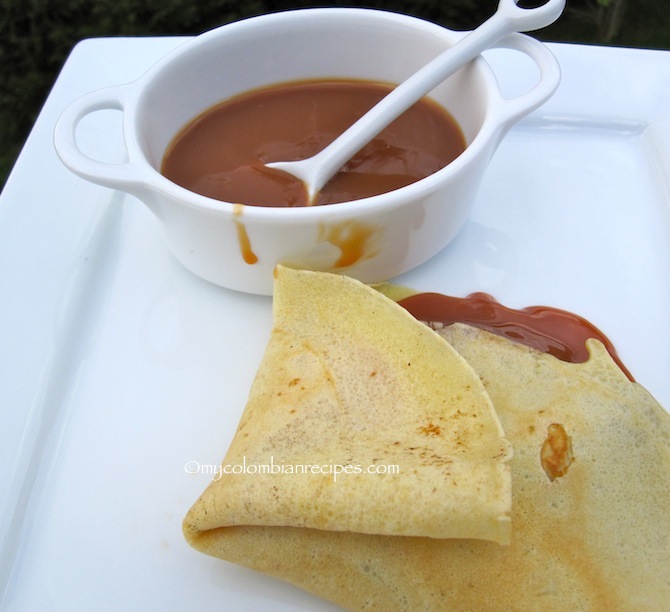 "Crepes and Waffles" is one of my favorite restaurants in Colombia. I loved going there and trying every crepe on the menu. It was a very popular restaurant that has multiple locations in Medellin. We would need to wait for a table in line outside on the weekends, but it was totally worth it. I miss that place a lot!
I was craving crepes for a while, yet never made them at home, so I decided to make some filled with Arequipe. They were decadent, rich, smooth and most definitely addicting. I don't know too many people who don't succumb to the magical powers of Dulce de Leche. These crepes were so easy to make and soooo good! I can't wait to make them again with a savory filling.
Buen provecho!