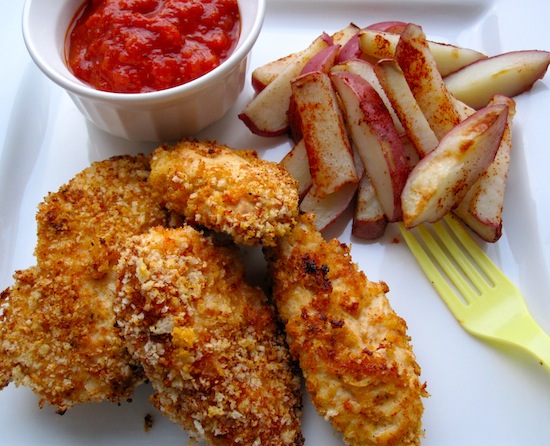 Happy 2011 everyone!
These Crispy Baked Chicken Strips are very easy to make and taste great. This is a kid-perfect recipe that even adults will love!
Buen provecho!
Ingredients
(4-6 servings)
4 boneless, skinless chicken breasts, cut into 1-inch strips
1/2 teaspoon onion powder
1/4 teaspoon garlic powder
1/2 teaspoon ground cumin
Salt and pepper
1/2 teaspoon paprika

1/4 cup flour
2 beaten eggs

2 cups panko(bread crumbs)
Directions
lace the chicken in a bowl, add the onion powder, garlic powder, cumin, salt and pepper. Cover and refrigerate for 30 minutes.
Adjust an oven rack to the middle position and preheat the oven to 400° F.  Place an oven-safe baking rack on a baking sheet.
Place the flour, eggs and bread crumbs in separate plates. Dip the chicken pieces in the flour, then the egg, then the bread crumbs, shaking off excess in between each step.  Place the coated chicken strips on the prepared baking rack.
Bake 15-20 minutes, or until the chicken is cooked through.  Serve with your choice of dipping sauces and bake potato strips.
This was printed from MyColombianRecipes.com