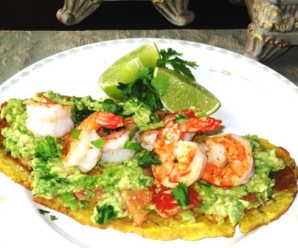 Fried Green Plantain with Guacamole and Shrimp (Tostada de Plátano con Camarones y Guacamole)
Ingredients
2 to

stadas or fried green plantains

1

cup

guacamole

12

shrimp

peeled and deveined

2

tablespoons

olive oil

2

cloves

of garlic

thinly sliced

1

teaspoon

paprika

1

teaspoon

ground cumin

1

lime for serving

Salt and pepper
Instructions
Heat the olive oil in a medium skillet over medium heat. Add the garlic and cook for 2 minutes stirring often.

Add the shrimp, paprika, cumin, salt and pepper and cook for about 2 minutes on each side or until the shrimp are cooked.

To serve: Place the tostada on a serving plate, spread ½ cup of guacamole and top with 6 shrimp. Place lime wedges on the side to drizzle on to of the shrimp.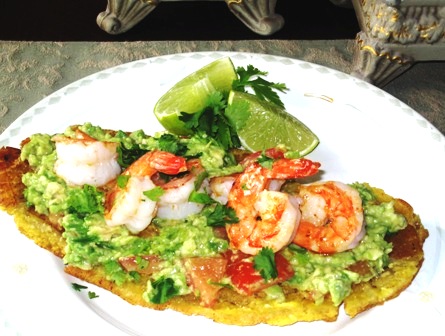 I made myself a yummy tostada or fried green plantain for lunch this week. The delicious topping was this Guacamole and shrimp. I enjoyed it very much and hope you do too!