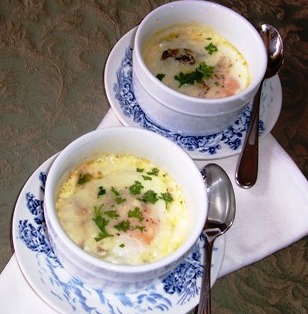 Baked Eggs with Portobello dish is perfect for a brunch, it is delicious and easy to make. Substitute your favorite mushrooms for Portobello.
Enjoy!
Ingredients
(6 servings)
6 large eggs
¼ cup chopped onions
2 tablespoons butter
4 cups chopped Portobello mushrooms
2 tablespoons flour
1/3 cup milk
6 tablespoons heavy cream
6 tablespoons parmigiano-reggiano
2 tablespoons chopped parsley
2 tablespoons chopped thyme
Salt and pepper
Instructions
1. Preheat the oven to 375° F
2. Heat the butter in a medium skillet over medium heat. Add the onions and cook for 1 to 2 minutes, then add the mushrooms and cook for an additional 5 minutes or until the onions are translucent.
3. Add the flour and milk stirring constantly, cook about 2 minutes, season with salt and pepper. Add parsley and thyme, remove from the heat.
4. Rub the inside of 6 small ramekins with butter and then add mushroom mixture into each ramekin. Add 1 egg to each, season with salt and pepper. Add 1 tablespoon heavy cream and 1 tablespoon parmigiano-reggiano cheese. Place the ramekins in a baking dish and bake about 8 to 10 minutes. Serve immediately.
This was printed from MyColombianRecipes.com