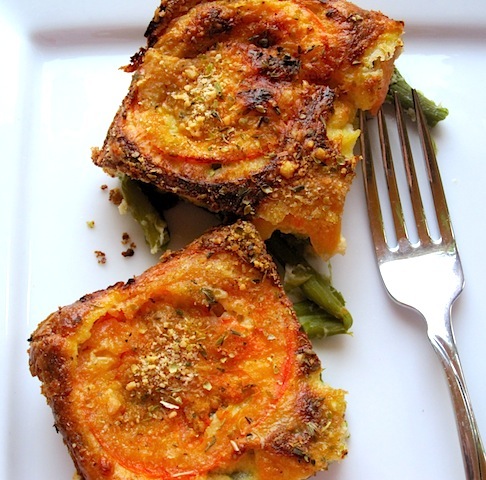 Asparagus and Tomato Frittata…simple, seasonal and absolutely delicious.
Asparagus are in season so, they are cheaper and fresh! This a tasty and wonderful vegetarian breakfast or lunch dish. Try it!
When you are buying asparagus, look for firm stalks. The cut end should look freshly cut and not too dried out. The length of the stalks should be all or mostly green. And, cook the asparagus as soon as possible after you buy them.
Buen provecho!
Ingredients
(4 servings)
1 tablespoon butter
1 tablespoon olive oil
1/4 cup chopped onions
1 garlic clove finely chopped
6 large beaten eggs
1/4 cup heavy cream
2 tablespoons all purpose flour
12 asparagus, cut into pieces
salt and pepper
1/2 cup cheddar cheese
1/4 cup parmesan cheese, plus more for topping
2 tablespoons bread crumbs
2 medium tomatoes, sliced
1/2 teaspoon oregano
Directions
Preheat the oven to 400F.
Melt the butter and olive oil in a medium skillet over medium heat. Add the onions and cook for about 6 minutes or until golden brown. Add the garlic and cook for 2 minutes more, stirring occasionally.
Place the cooked onion and garlic in a medium bowl, add the heavy cream, eggs, flour, asparagus, cheddar cheese, parmesan cheese and mix well. Season with salt and pepper.
In a small bowl mix the bread crumbs, parmesan cheese and oregano and set aside.
Pour the mixture into a greased individual oven proof dish. Top with the sliced tomatoes, sprinkle with bread crumbs mixture and bake for about 30 minutes or until set.
Serve warm.
This was printed from MyColombianRecipes.com