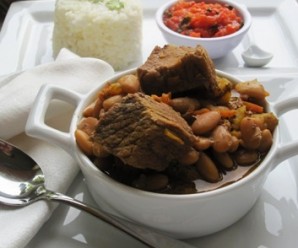 Beans and Beef Stew (Estofado de Frijoles y Carne)
Ingredients
1

pound

dry red

pinto or canary beans, rinsed and picked over

4

cups

water

2

pounds

beef for stew

cut into chunks

½

cup

grated carrot

1

large green plantain

peeled and diced

½

teaspoon

ground cumin

1

cup

chopped onion

1

garlic clove

1

scallion

½

cup

red bell pepper

Salt and pepper

½

cup

chopped fresh cilantro
Instructions
Wash the beans and soak overnight in cold water. Drain the beans and dump into slow cooker.

Place the onions, garlic, scallion and red bell pepper in the food processor.

Add the beef to slow cooker with beans and pour in water. Add the chopped vegetables, grated carrot and ground cumin. Stir well.

Cover the pot and cook on high for 5 hours or until the beans are tender.

Add the plantain, season with salt and pepper and cook for 30 minutes more.

Add chopped cilantro and serve with white rice and hogao.

If using a normal pot: Wash the beans and soak overnight in cold water. Drain the beans and place in a large pot and add the water, beef, chopped vegetables, carrots and cumin. Over medium-high heat, bring the beans to a boil, then cover the pot and reduce the heat to medium-low. Allow the beans to cook until almost tender, approximately 2 hours.

When the beans are almost tender, add the plantains, salt and pepper. Cover and cook for another hour or until the beans are fully cooked. (Add additional water as necessary).

Add chopped cilantro and serve.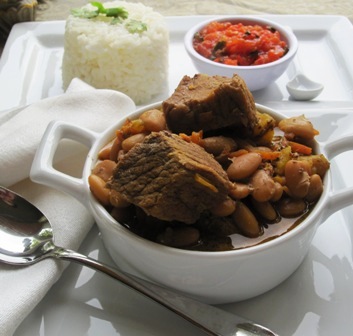 This beans and beef stew is a warm and comforting meal and the perfect dish to eat on a cold day. Beans are a staple in Colombian cuisine and are usually cooked in a pressure cooker. I do own a pressure cooker, but I am a little intimidated by that thing. My mom bought it for me when I was engaged to be married. Like most Colombian mom's, she couldn't bear the thought of her daughter not owning a pressure cooker.
I noticed that I have been using my crock pot more and more lately. I used it again for this beans and beef stew, not the pressure cooker 😉 Just think about how great it is to put a bunch of ingredients in a pot and not have to worry if dinner is burning for at least 5 hours. You also don't have to worry about it exploding as a result of too much pressure, sending shrapnel throughout the kitchen. Enjoy the dish!
Salt and pepper
If using a normal pot: