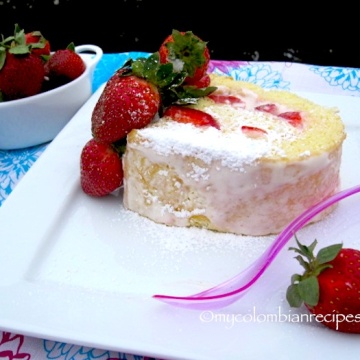 Brazo de Reina (Strawberries and Cream Cake Roll)
Ingredients
4

eggs

separated

½

cup

sugar + 2 tablespoons

1

teaspoon

vanilla extract

½

cup

all purpose flour

sifted

½

teaspoon

baking powder
Instructions
Preheat the oven to 375 degrees F. Butter a baking sheet. Line the baking sheet with parchment paper and butter the parchment paper. Set aside and lay a clean kitchen towel on a work surface.

With an electric mixer, beat egg whites in a bowl until stiff and set aside. In another bowl, beat the egg yolks until pale. Gradually add the sugar and vanilla extract.

In another bowl sift together the flour and baking powder. Add the flour mixture to the egg yolk mixture and mix well.

Fold in the egg whites into the flour-egg mixture.

Spread the batter evenly over the parchment paper.

Bake for 12 minutes or until the cake is golden.

Meanwhile, in a medium bowl, beat the cream on medium speed until it begins to thicken. Add powdered sugar and vanilla. Increase the speed to medium-high and beat until soft peaks form. Place in the refrigerator until ready to use.

Run a table knife around the edges of the cake and invert the cake onto the prepared kitchen towel. Carefully peel off the parchment paper. Starting at the narrow end, roll up the cake and towel together, into a log. Cool completely on a wire rack.

Unroll the cake and remove the towel, spread the whipped cream over the cake and top with strawberries. Roll up the cake and transfer, seam side down, to a serving plate. Sprinkle with powder ed sugar or whipped cream and when ready to serve, cut the roll into thick slices and arrange on a platter.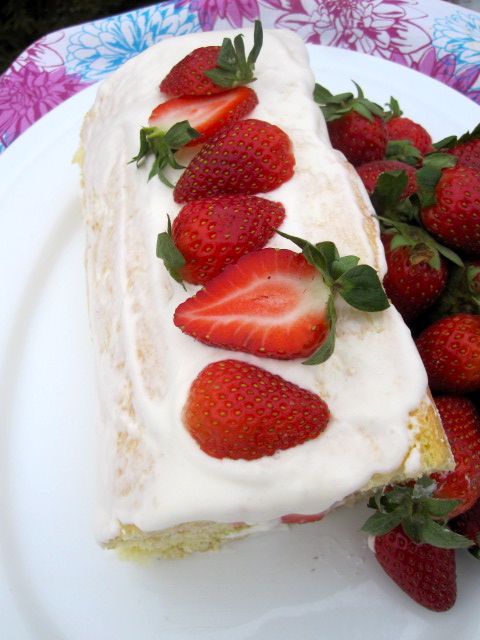 Brazo de Reina literally translates to "Queen's Arm" in English and is a traditional Colombian Cake Roll. Brazo de Reina it is basically a sponge cake filled with sweet whipped cream and fresh strawberries. There are different variations of roll cakes in Colombia, such as Pionono and Rollo Rojo de Guayaba. Pionono is usually filled with dulce de leche and Rollo Rojo de Guayaba is filled with guava jam or jelly.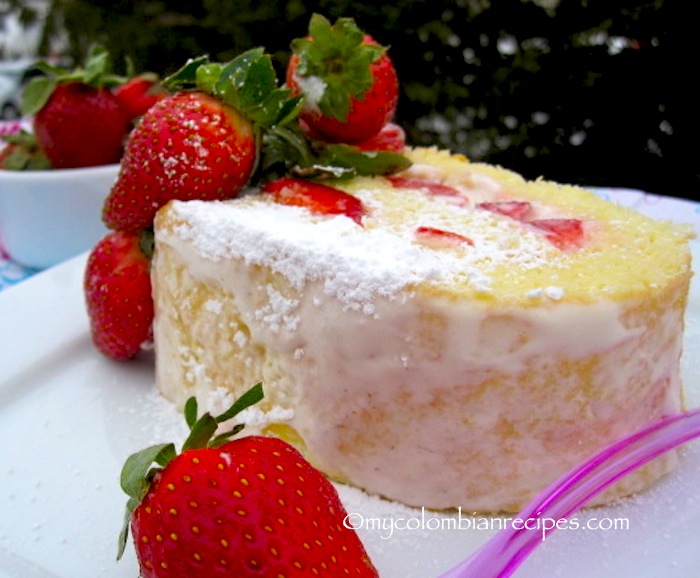 Roll cakes can be intimidating for beginner bakers like me, but this Brazo de Reina recipe is very easy to make, takes only about 12 minutes to bake and it makes a beautiful presentation. I don't know about you, but I love making these kind of desserts!
The combination of the light and spongy cake with strawberries and cream filling is fantastic. The filling is creamy, light and naturally sweet, and would certainly make a perfect Valentine's treat 🙂
Buen provecho and I hope everyone has a Happy Valentine's Day!