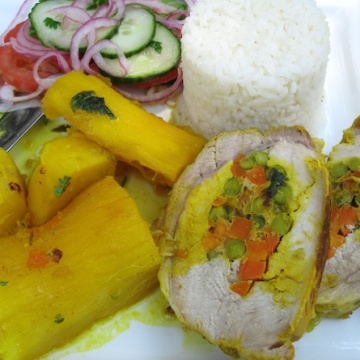 Carne de Cerdo Rellena (Pork Stuffed with Vegetables)
Ingredients
2

pounds

pork roast boneless

½

cup

chopped onion

2

garlic cloves

2

scallions

Salt and pepper

½

cup

of peas

½

cup

diced carrots

½

teaspoon

ground cumin

½

teaspoon

sazon goya with azafran or achiote

1

pound

frozen yuca

1

pound

small potatoes

5

cups

water
Instructions
Place the onions, garlic, and scallion in a food processor and puree.

To create the cavity for the stuffing, use a long sharp knife and cut a 1 ½ to 2-inch hole through the center of the roast making a lengthwise slit. Turn the meat around and cut another slit in the same spot so that your knife completes the cavity.

Stuff the pork with the peas, carrots and half of the onion mixture, pushing with your fingers to be sure the filling goes all the way through. Tie the end of the pork so the filling does not come out.

Place the pork in a zip lock bag, add the rest of the onion mixture, salt and pepper.

Be sure the pork is covered with the marinade and refrigerate for at least 3 hours or overnight.

In a large pot, place the stuffed pork water, sazon goya and cumin powder. Reduce the heat to medium low, cover and cook for 1 hour to 1 hour and 30 minutes, stirring occasionally.

dd the potatoes and yuca, and cook for an additional 30 minutes or until the vegetables are tender.

Serve over white rice.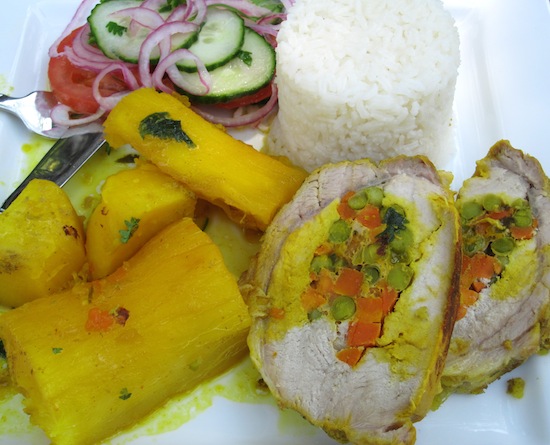 This is my grandmother's Stuffed Pork recipe which is stuffed with carrots, peas, herbs, and spices. This is one of my favorite comfort food dishes.
I lived with my grandmother for a few years and I had a special relationship with her. This was one of the dishes she used to make for me when I had lunch at her house. She knew it was one of my favorites. She served it with rice, yuca, potatoes, salad and avocado. And, it tastes even better the next day.
Buen provecho!