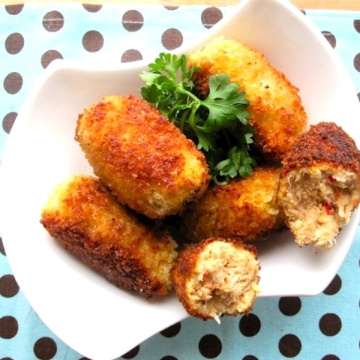 Chicken Croquettes (Croquetas de Pollo)
Ingredients
2

tablespoons

butter

½

cup

finely chopped onion

½

cup

finely chopped red bell pepper

1

garlic clove

minced

½

teaspoon

ground cumin

Salt and freshly ground pepper

to taste

2

cups

cooked chicken

diced

3

tablespoons

of chicken broth

2

cups

bread crumbs

3

eggs

Canola

or vegetable oil for frying
Instructions
In a sauté pan over medium heat, melt the butter. Add the onion, red bell pepper and garlic. Cook, stirring occasionally, until the vegetables are soft, about 3 to 4 minutes. Add the cumin and season with salt and pepper. Remove the vegetables from the heat. Transfer to a large bowl.

Meanwhile, place the cooked chicken in the food processor or a meat grinder. Process for a couple of minutes, or until ground, and add to the onion mixture.

In a small bowl, combine the eggs, chicken broth, and ½ cup of the bread crumbs and mix well. Place the rest of the bread crumbs in separate bowl. Line a baking sheet with parchment paper.

Take small balls from the mixture and form the croquettes. Roll the croquettes in the bread crumbs. Set the croquettes on the prepared sheet. Repeat with the remaining mixture. Place in the fridge to rest for about 3 hours.

In a fry pan over medium-high heat, pour in the oil, enough to cover the croquettes, and heat to 350°F.

Using tongs, carefully place 3 or 4 croquettes in the hot oil (do not crowd the pan) and cook, turning as needed, until golden brown, about 4 minutes. Repeat with the remaining croquettes.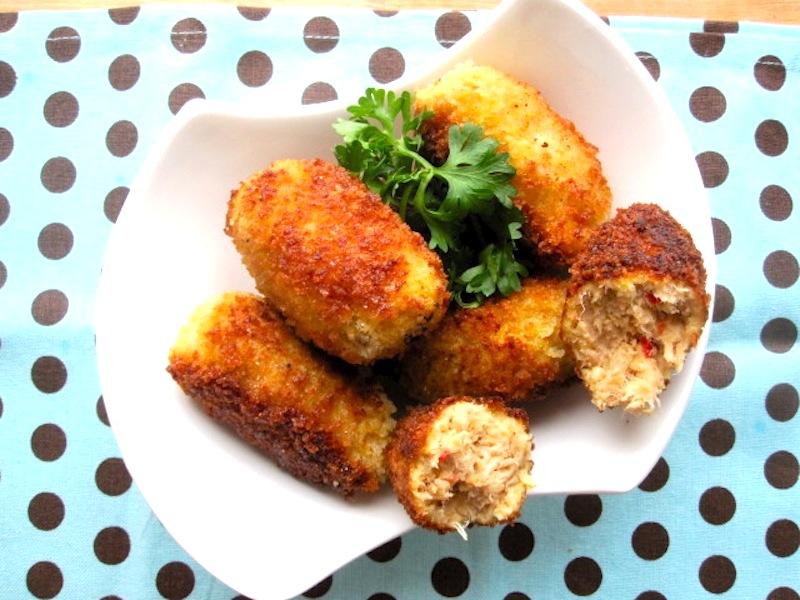 Colombians are party people. We are always looking for an excuse to get together, eat, drink, and dance. What's better than spending time with friends and family, while sharing good music, food and drinks? Not much in my book!
Our home was always a meeting place for family and friends when I was growing up in Colombia. My parents loved to entertain and my mom loved to cook for crowds of people. Sometimes these parties happened on extremely short notice, like when my father would bring friends home from work! So, my family has an extensive collection of throw-together party foods for whenever the moment strikes!
Croquetas were something my mom kept on hand at all times. They make great last minute hors d'oeuvres. If you entertain regularly, you need to have a few tricks up your sleeve!
Croquettes are perfect party snacks that can be made in advance, then placed in the fridge in sealed plastic bags, and cooked when your guests arrive. I find that at parties, people are more likely to choose the least messy food to eat, especially if it's an event where they are not sitting at a table, or where there is dancing. Croquettes are easy to pick up and carry while dancing salsa or merengue!
This recipe starts with cooked chicken meat. That means, you can use leftovers from another meal, such as roasted or grilled chicken. So when you prepare one meal during the week, you are actually getting a head start on the appetizers for your weekend gathering! Isn't that exciting?
Keep in mind that just because I call them appetizers, doesn't mean you can only serve them before a meal. As a matter of fact, my mom would serve them for dinner at times with rice and plantains on the side, and we loved them. Buen provecho!