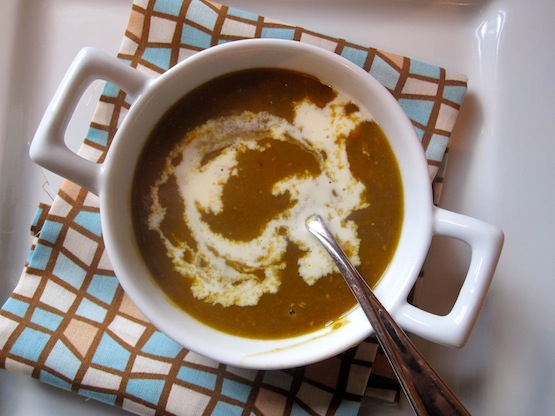 A typical meal in my house when I was a child consisted of the first course, which was always a soup, followed by a second course, which was usually rice with meat, chicken, fish or egg, and potatoes, yuca or plantain.
I hated chunky soups, but I really liked cremas, or pureed soups, and was fortunate that my mom would puree my soups for me 🙂 Thanks mom!
Cream soups are very popular in Colombia and we have many variations, like this Lentil soup. They even sell them packaged and ready to make, although not as good as homemade, many people enjoy them as well.
Buen provecho!
Don't forget to visit my review page where I am giving away $150!
Ingredients
(4-6 servings)
1 teaspoon vegetable oil
½ cup chopped onion
1 garlic clove, minced
¼ cup chopped scallions
½ cup chopped tomatoes
5 cups chicken, beef or vegetable broth
1 ¼ cup dried lentils
½ teaspoon salt
¼ teaspoon pepper
½ cup chopped carrots
½ cup potato, diced
¼ teaspoon cumin powder
2 tablespoons fresh cilantro chopped
Heavy cream for garnish
Directions
Add the oil, carrots, onion, garlic, tomato and scallions to the pot, season with salt and pepper. Cook stirring occasionally about 12 minutes. Stir in the cumin and cook 1 minute more.
Add the lentils and water, bring to a boil. Then reduce the heat to medium low, cover and cook until the lentils become tender about 30 minutes.
Add the potatoes and cilantro, cook for 15 minutes until the potatoes are fully cooked and fork tender.
Using a blender, puree the soup in batches until smooth. Return the soup to the pot. Add more broth if needed to reach the desired consistency.
Ladle into soup bowls and top with cream, if using, and serve immediately.
This was printed from MyColombianRecipes.com