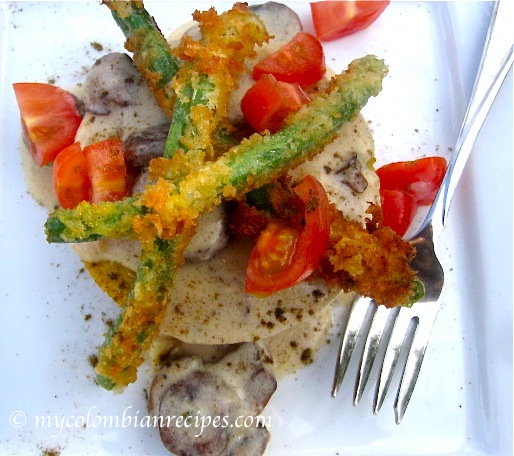 November's 5 Star Makeover Challenge was to remake the classic American Green Bean Casserole. This classic holiday dish contains green beans, cream of mushrooms soup, and fried onions.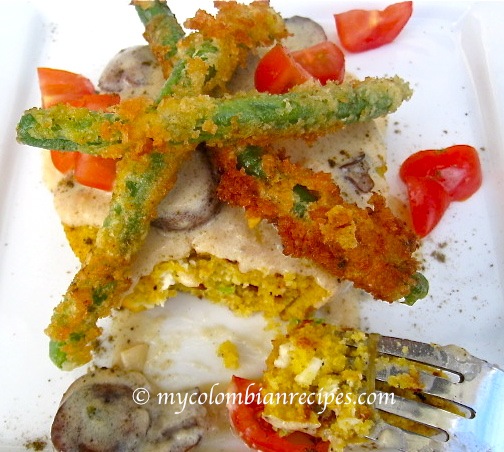 For my version I decided to put a little Latin touch on the dish using mini caramelized onions, jalapeños, and queso fresco corn cakes, topped with a homemade Bechamel mushroom sauce and Panko crispy green beans. I didn't grow up eating the classic version like most Americans, and to be honest, I've never even had green bean casserole! But, this version is absolutely delicious and I will be making it again soon.
Thank you Lori Lynn for a great and fun idea and thank you to Natasha and Lazaro for hosting the event! Don't forget to visit the links below on Friday, November 30, for all the other talented food bloggers Green Bean Casserole makeovers!
Buen provecho!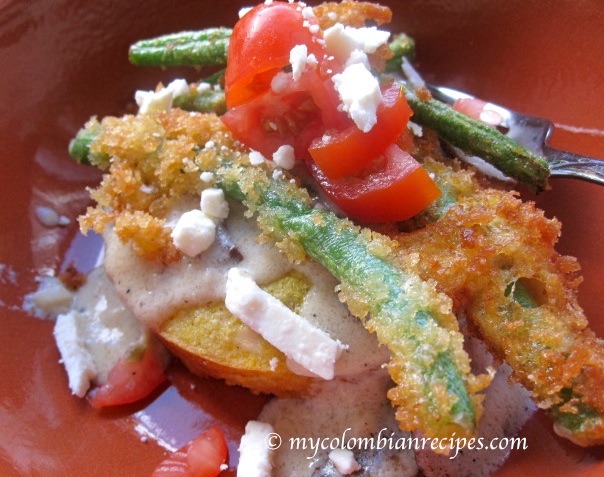 Ingredients
(4 servings)
Caramelized Onions Mini Cakes

2 tablespoons butter
2 tablespoons olive oil
1 large white onion, sliced
1 small jalapeño
1/2 cup butter, melted
1/2 cup masa harina
1/2 cup corn meal
1/2 cup milk
1/2 cup queso fresco, crumbled
1/4 cup sugar
1 beaten egg
1/2 teaspoon baking powder
1/4 teaspoon ground cumin
Salt and pepper, to your taste
Mushroom Sauce:
2 tablespoons of olive oil
1 pound portobello mushrooms, diced
1/2 tablespoon of fresh thyme
1 tablespoon of chopped fresh chives
1 garlic clove, minced
1/4 cup finely chopped onions
2 of cups of milk
4 tablespoons of unsalted butter
1/4 cup all-purpose flour
Crispy Green Beans:
8 ounces of fresh green beans, trimmed
3/4 cup all purpose flour
2 eggs, beaten
2 cups panko bread crumbs
1/2 teaspoon garlic powder
1/4 teaspoon ground cumin 
Salt and black pepper
Grape tomatoes cut into pieces
Directions
Caramelized Onions Mini Cakes: Place a saucepan over medium heat and add the butter and olive oil and heat until the butter has melted. Add the onions, season with salt and pepper, and cook stirring frequently until the onions are golden, about 20 minutes

In a medium bowl combine the jalapeño, butter, masa harina, corn meal, milk, queso fresco, sugar, beaten egg, baking powder, ground cumin and mix until well combined. Preheat the oven to 350°F.

Divide mixture into 4 small baking pans and top with foil. Place  pans in oven. Bake for about 25 minutes. Remove from oven, uncover, and set aside.
When the cakes are baking make the Mushroom Sauce: In a fry pan over medium-low heat, warm the olive oil. Add the mushrooms, thyme, chives, onion, garlic and sauté until very soft and lightly golden, about 12 minutes.

In a saucepan over medium heat, bring the milk to just below a boil. In another saucepan over medium-high heat, melt the butter. Stir the flour into the butter and cook, stirring, for 2 minutes. Remove from the heat and gradually whisk in the hot milk. Set over medium-low heat and cook, stirring, until thick and smooth, 3 to 4 minutes. Season with salt and pepper. Add the mushrooms to the sauce and stir well.
To make the Crispy Green Beans: Place the green bean, salt and water in a pot. Place over high heat and bring up to boil. Cook for about 3 minutes, the beans should be crisp. Drain the beans and then run them under some cold water to stop them from cooking. Drain and place on a clean towel and dry them.
Set up three bowls, one with the flour, the eggs in the second bowl, and in the third bowl, the bread crumbs, garlic powder, and cumin.
Dip the green beans first in the flour, then in the egg, after coat the green beans with the bread crumbs evenly and transfer to a prepared baking sheet in a single layer.
Bake the green bean for about 12 minutes, until golden and crispy.

To assemble: Place a corn cake on a plate, drizzle some mushroom sauce and place green beans on top. Garnish with grape tomatoes.
This was printed from MyColombianRecipes.com