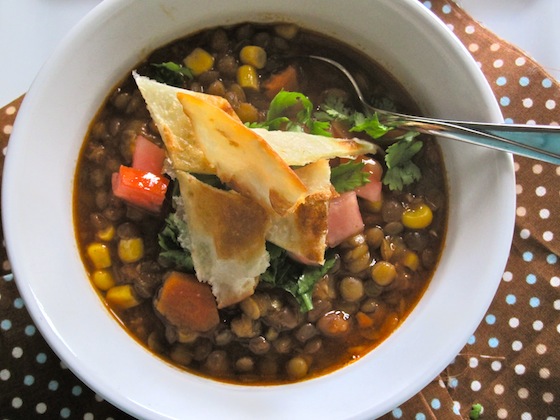 There are many versions of chili and this Meatless Lentil Chili is hearty and healthy. This dish is satisfying, comforting, tasty, and full of vitamins. All that in just one bowl!
Buen provecho!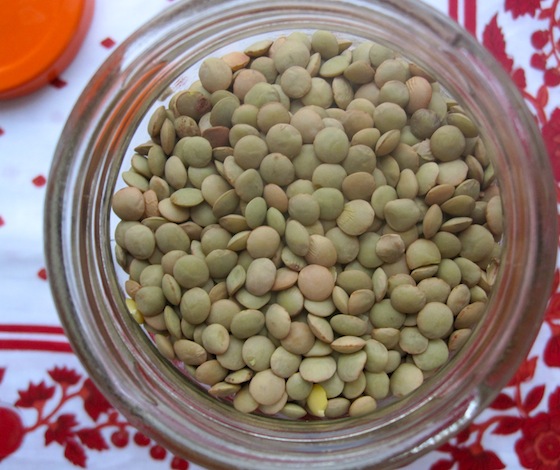 Ingredients
About 6-8 servings
2 cups brown lentils
8 cups vegetable broth
1 tablespoon olive oil
1 cup onion, chopped
2 scallions, finely chopped
1 red bell pepper, chopped 
4 cloves garlic, finely chopped 
2 dried chili de árbol
2 cups diced tomatoes
2 carrots, sliced
2 cups corn kernels
1 teaspoon tomato paste
1 teaspoon sugar
1 teaspoon ground cumin
1/3 cup chopped cilantro
Salt and pepper
Fresh salsa to serve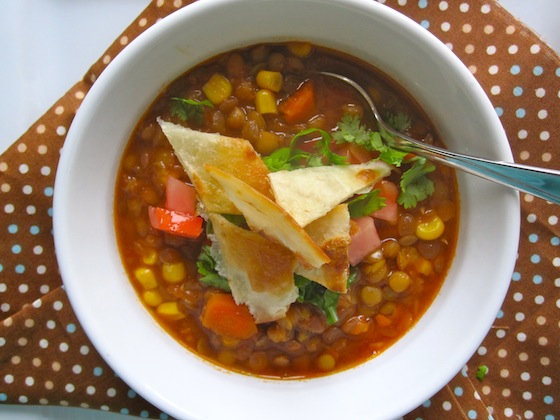 Directions
Place the olive oil in a large pot over medium-high heat. Place the chili de árbol in a small bowl with hot water and set aside.
Add onion, scallion, bell pepper and garlic and cook about 8 minutes or until onion is translucent and pepper is tender.
Add in chili powder and cook 1 minute, stirring constantly. Add lentils, tomatoes, carrots, corn, tomato paste, sugar, cumin and broth. Season with salt and pepper.
Bring to a boil, reduce heat to medium-low and simmer, partially covered, 30 minutes or until lentils are almost tender. Add cilantro and cook 10 minutes longer. Garnish with tortilla chips and fresh salsa.
This was printed from MyColombianRecipes.com