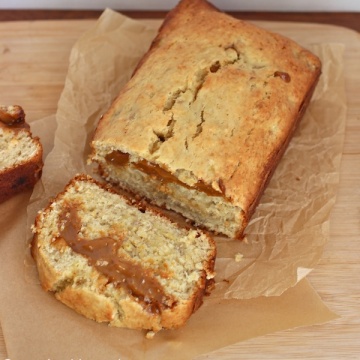 Pan de Banano y Arequipe) Banana and Dulce de Leche Bread
Ingredients
1 ¾

cups

all-purpose flour

2

teaspoons

baking powder

½

teaspoon

salt

¼

teaspoon

baking soda

5

very ripe bananas

peeled

⅔

cup

sugar

½

cup

melted butter

2

beaten eggs

1

teaspoon

vanilla extract

½

teaspoon

ground cinnamon

1

cup

of dulce de leche

See recipe here
Instructions
Preheat an oven to 350°F. Grease a loaf pan with cooking spray.

In a bowl, stir together the flour, baking powder, salt and baking soda.

In a large bowl, mash the bananas with a fork. Add the sugar, butter, eggs, cinnamon and vanilla and mix with a wooden spoon until well blended.

Add the flour mixture to the banana mixture and stir well.

Pour half of the batter into the prepared pan, spreading it evenly with the wooden spoon. Spread the dulce de leche on top and pour the rest of the batter on top of the dulce de leche.

Put the pan in the oven and bake until a toothpick inserted into the center of the bread comes out clean, about 40 to 45 minutes.

Remove the pan from the oven, set it on a cooling rack and let cool for 10 to 15 minutes.

Turn the pan on its side and slip the loaf out onto the wire rack. Let the loaf cool for about 10 minutes before serving.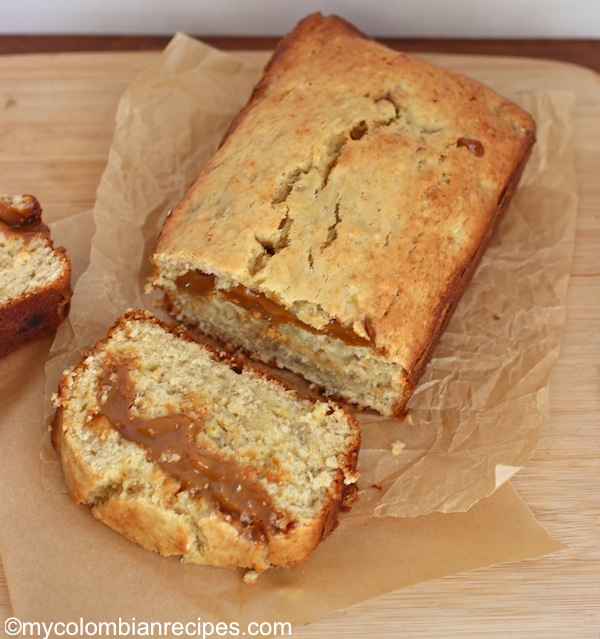 Many of us have a favorite dessert flavor. For most people, it's chocolate, for others, it' s citrus, for some it's vanilla or mint. But whatever it is, it' s the flavor that you just can't resist whenever you see it on a menu or in a store. For me, that flavor is arequipe or dulce de leche.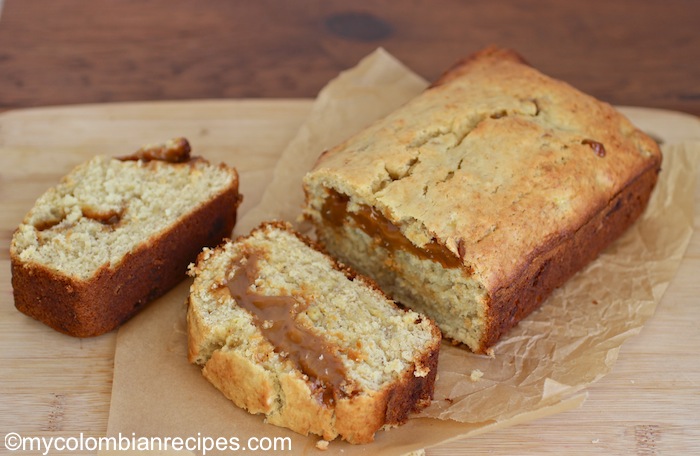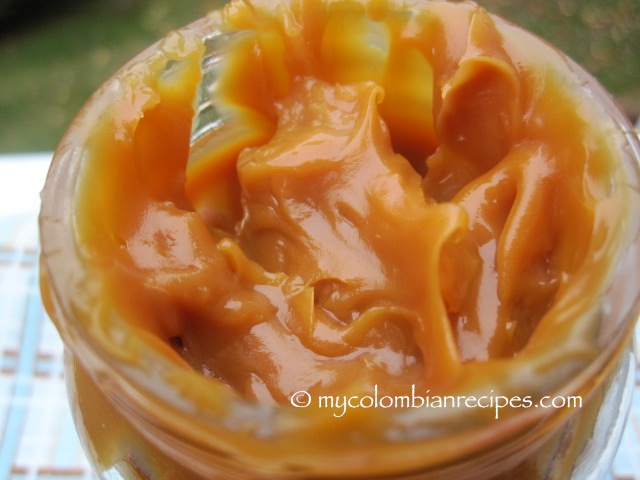 I love arequipe... maybe the word love it's not strong enough, I' m actually a bit obsessed with it. On this site I' ve posted about 27 recipes made with arequipe. I know, I know., it' s getting a little out of control, but that' s what happens when you have a favorite dessert flavor, and there' s no end to the recipes I can make with it. So, to add to my long list of dulce de leche desserts, today I have a Banana and Dulce de Leche Bread to share that is very simple to make and absolutely delicious.
Buen provecho!