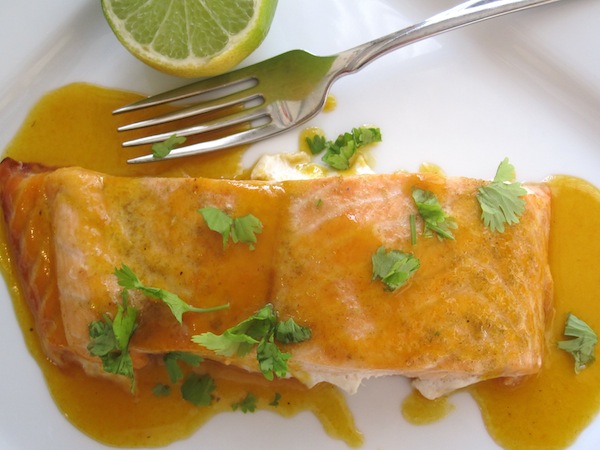 This Salmon with Passion Fruit Sauce is a fresh, tasty and quick to prepare dish, which makes it a great choice for a weekday meal. The passion fruit sauce made the dish taste fantastic without overwhelming the flavor of the salmon.
Buen provecho!
Ingredients
(4 servings)
4 (5oz) Salmon fillets
Salt and pepper
3 tablespoons olive oil
1 teaspoon ground cumin

Sauce

1 tablespoon of butter
1/4 cup red onion, finely chopped
1 garlic clove, minced
2 cups passion fruit puree
1 teaspoon fresh lime juice
2 tablespoons chopped cilantro, plus more for garnish
1/4 cup honey or to your taste
Salt and ground pepper
Directions
To cook the salmon:
Preheat the oven to 400° F.
Place the salmon fillets in a large baking dish. Drizzle olive oil and season each fillet with cumin, salt and pepper.
Place the baking dish in the oven and bake for 15 to 20 minutes or until the salmon is cooked through. Spoon passion fruit sauce over the salmon fillets, sprinkle fresh cilantro and serve.
Place the rest of the passion fruit sauce in a serving bowl and leave on the table with the salmon to be used as a topping, if desired.
To make the passion fruit sauce:
Heat the butter in a medium saucepan over medium heat.
Add onion and cook until soft, about 3 minutes. Add garlic and cook for 1 minute.
Add passion fruit puree, stir well, and cook about 15 minutes.
Transfer the mixture to a blender. Add the lime juice, cilantro, and honey and blend until smooth.
This was printed from MyColombianRecipes.com