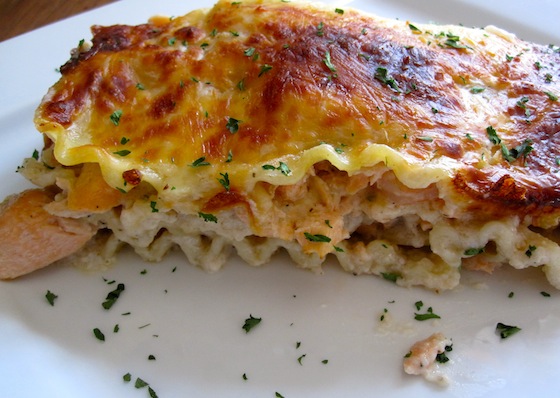 This seafood lasagna was very flavorful and so good. I love making lasagna because it can be made in advance which makes it the perfect main dish when having company. I used salmon and shrimp, but you can use your favorite seafood for the filling. Serve it with a green salad on the side.
Buen provecho!
Ingredients
(6 servings)
3/4 pound dried lasagna noodles

White sauce

4 cups whole milk
8 tablespoons butter
1/2 cup all purpose flour
Salt and pepper

Fiilling

2 tablespoons butter
1 tablespoon olive oil
1/2 cup grated onions
1/2 cup grated carrots
2 garlic cloves minced
1/4 cup white wine
1 cup heavy cream
1 teaspoon tomato paste
1/2 teaspoon ground cumin
1 lb medium shrimp peeled, deveined and cut into pieces
1 1/2 pounds cooked salmon, cut into small pieces
1/4 cup fresh parsley, chopped
1 cup grated mozzarella cheese
1 cup freshly ground Parmesan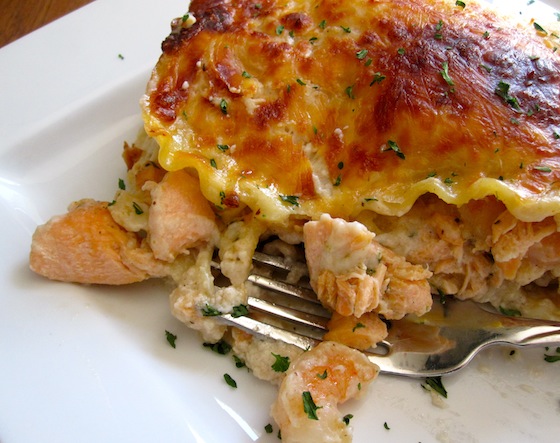 Directions
Preheat the oven to 375 degrees F.
Bring a large pot of salted water to a boil. Add the lasagna noodles and cook for 10 minutes, stirring occasionally. Drain and set aside.
To make the white sauce, bring the milk to a simmer in a small pot and set aside. In a medium saucepan melt the butter. Add the flour and cook for about 2 minutes over low heat, stirring constantly with a wooden spoon. Pour the warm milk into the flour mixture. Season with and pepper. Stir using a whisk, for about 3 minutes, until thick. Turn off the heat and set aside.
To make the filling: Heat oil and butter in a large pan. Add the onions, carrots, garlic and cook for about 5 minutes.
Add the wine and cook for 2 minutes. Add the heavy cream, tomato paste, cumin, shrimp and salmon. Stir and set aside.
To assemble the lasagna, spread some of the white sauce in the bottom of baking dish.
Arrange a layer of noodles on top, then more sauce, followed by 1/3 of the seafood mixture, 1/4 cup grated mozzarella and 1/4 cup of parmesan cheese. Repeat 2 more times, layering noodles, sauce, seafood, mozzarella and Parmesan.
Top with a final layer of noodles and white sauce, and sprinkle with the remaining mozzarella and Parmesan cheese.
Bake the lasagna for about 40 minutes, or until the top is browned Allow to sit for 15 minutes, sprinkle with fresh parsley and serve hot.
This was printed from MyColombianRecipes.com