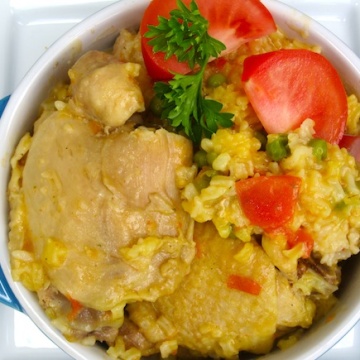 Arroz Tapado (Rice with Chicken and Pork)
Ingredients
½

pound

pork belly

diced

1

pound

pork ribs

cut into pieces

6

chicken legs or thighs

1 ½

cups

rice

6

cups

chicken stock

¾

cups

peas

2

large carrots

peeled and grated

½

teaspoon

ground cumin

Salt and pepper

¼

cup

milk

⅓

cup

mozzarella cheese

shredded

2

tablespoons

butter

1

tablespoon

oil

2

scallions

finely chopped

2 to

matoes

finely chopped

⅓

cup

chopped onion

1

garlic clove

minced

⅓

cup

fresh cilantro

chopped

Salt and pepper

¼

teaspoon

ground cumin

¼

teaspoon

achiote or color
Instructions
To make the hogao: Heat the oil and butter in a saucepan, add the tomatoes, scallions, onion, garlic, ground cumin, achiote and cook gently for 10 minutes, stirring until softened.

Reduce the heat to low, add the salt, pepper and cilantro, cook for 10 minutes more, stirring occasionally until the sauce has thickened. Check and adjust the seasoning. Set aside.

To make the rice: In a large pan over medium heat, add the pork belly. Sautué for 5 minutes or until the pork belly is brown. Add the pork ribs. Cook for 5 minutes more. Stirring often.

Add the chicken pieces and sautué for 4 minutes on each side or until brown. Add the rice and stir to coat.

Add the chicken stock, stir and cook for about 15 minutes. Add the peas, carrots, salt, pepper and cumin, cook for about 10 more minutes.

Reduce the heat to low, add the hogao, milk and cheese and cook for 10 minutes more. Remove from the heat and let it sit for 5 minutes.

Add the fresh cilantro and Serve warm.
Arroz Tapado is a classic Colombian dish from the Boyaca department of Colombia. This rice has a lot happening! It is cooked in a chicken stock with chicken pieces, pork belly, pork ribs, vegetables, milk, cheese, sautéed onions, peppers, tomatoes, garlic, cumin, achiote or color and cilantro.
Colombians love arroz or rice... we cannot live without it. Since we eat it almost every day, Colombians have countless rice based dishes in our recipe arsenals. In this dish, the chicken pieces are marinated with garlic, scallions, salt and pepper. I like to serve Arroz Tapado with avocado slices, tomato and aji or hot sauce. It can also be served with fried ripe or green plantains.
Buen provecho!