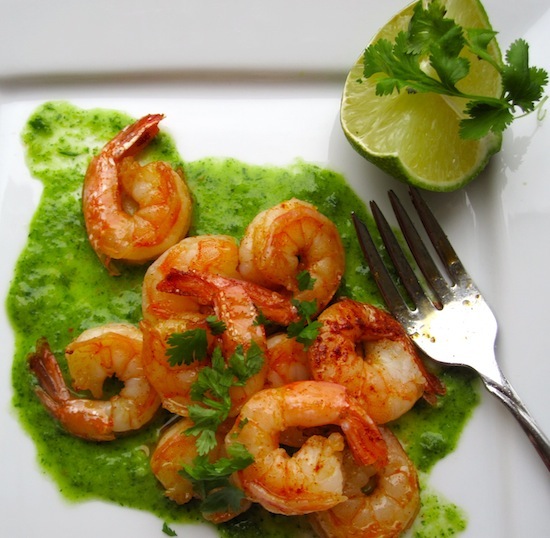 Maybe this doesn't sound like the most exciting dish, but trust me, it is rich and deeply flavorful. I called this an appetizer, so don't be tempted to fill your plate or you'll have no room for the main course 🙂
This is very simple to make and the best thing is that the cilantro-parsley sauce can be made ahead!
Serve this dish with lots of crusty bread for sopping up the delicious sauce.
Buen provecho!
Ingredients
(About 6 servings)
Sauce

1 bunch of chopped cilantro
1 bunch of chopped parsley
2 scallions chopped
2 garlic cloves
4 tablespoons of lime juice
2 tablespoons of water
Salt and pepper
1 teaspoon ground cumin
2 teaspoons olive oil
1/2 teaspoon sugar

Shrimp

3 Tablespoons olive oil
1/2 teaspoon onion powder
1/2 teaspoon garlic powder
Pinch of red pepper flakes
1 1/4 lb. shrimp, peeled and deveined
Salt and black pepper, to taste
Directions
In a fry pan over medium-high heat, warm the olive oil. Add the shrimp season with garlic powder, onion powder, red pepper flakes, salt and black pepper.
Cook, stirring, until the shrimp curl and turn pink, about 6 minutes. Transfer to a serving dish and garnish with the cilantro-parsley sauce. Serve immediately.
To make the sauce: Place all the ingredients in a blender or food processor and blend all ingredients into a paste. Add more water if necessary.
This was printed from MyColombianRecipes.com